Question: How do I rank duplicate values uniquely also I need them in an array?

Answer: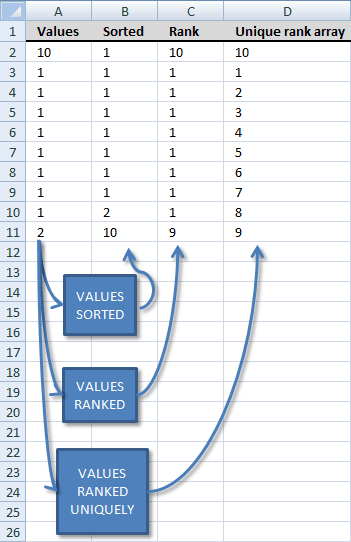 Array formula in D2:
=COUNTIF(List, "<"&A2)+SUM(IF(A2=$A$2:A2, 1, 0)) + Ctrl + Shift + Enter copied down as far as needed.
Download excel example file
unique-rank.xls
(Excel 97-2003 Workbook *.xls)
Functions in this article:
IF(logical_test;[value_if:true];[value_if_false])
Checks whether a condition is met, and returns one value if TRUE, and another value if FALSE
SUM(number1,[number2],)
Adds all the numbers in a range of cells
COUNTIF(range,criteria)
Counts the number of cells within a range that meet the given condition

---
---
You can click on headers to sort table for easy finding.
Email This article to a Friend