Here is how to quickly import historical stock quotes from yahoo.
First you need to know the company ticker. Go to Yahoo Finance and type the company name here.
Microsoft has symbol ticker msft. Use the argument msft in the custom function to import historical stock prices.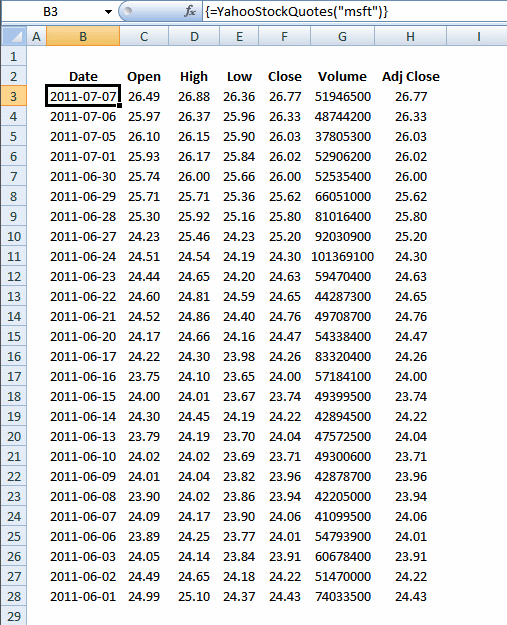 VBA Code
Function YahooStockQuotes(ticker As String)
Dim url As String, today As Date, http As Object
Dim csv As String, temp() As String, txt As String
Dim r As Integer, a As Single, b As String
ReDim temp(6, 0)

today = Date

url = "http://ichart.finance.yahoo.com/table.csv?s=" & ticker & _
"&d=" & Month(today) - 1 & "&e=" & Day(today) & "&f=" & Year(today) & "&g=d&a=0&b=1&c=2003&ignore=.csv"

On Error Resume Next
Set http = CreateObject("MSXML2.XMLHTTP")

http.Open "GET", url, False
http.Send
csv = http.responseText

r = 0
txt = ""

For a = 1 To Len(csv)

    b = Mid(csv, a, 1)
    
    If b = "," Then
        temp(r, UBound(temp, 2)) = txt
        r = r + 1
        txt = ""
    ElseIf b = Chr(10) Then
        temp(r, UBound(temp, 2)) = txt
        ReDim Preserve temp(UBound(temp, 1), UBound(temp, 2) + 1)
        txt = ""
        r = 0
    Else
        txt = txt & b
    End If

Next a

YahooStockQuotes = Application.Transpose(temp)

Set http = Nothing

End Function
Where to copy vba code?
Press Alt-F11 to open visual basic editor
Click Module on the Insert menu
Copy and paste vba code.
Exit visual basic editor
How to create an array formula
Select cell B2
Copy (Ctrl + c) and paste (Ctrl + v) array formula into formula bar.
Array formula:  =YahooStockQuotes("msft")
Press and hold Ctrl + Shift.
Press Enter once.
Release all keys.
How to copy array formula
Select cell B2
Copy (Ctrl + c)
Select cell range B2:H28
Paste (Ctrl + v)
Download example file.
(Excel 97-2003 Workbook *.xls)
Recommended blog posts
Want to know more about excel and stocks? You must read these blog posts:
---
---
---
---
---
---
---
You can click on headers to sort table for easy finding.
Email This article to a Friend