Article updated on April 11, 2018
This tutorial shows you how to add a line to a chart, it combines two types of charts, column and scatter chart.
The first step is to create a chart with only one series. You can see my data in cell range A1:B7.
Select A1:B7
Go to tab "Insert" on the ribbon
Click "column chart" button
The excel column chart is created, shown in the picture below.
Add a second series
I have added more data for a second series in cell range A9:B11.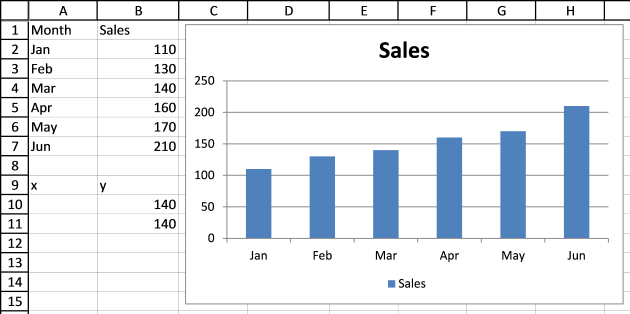 This series will be a horizontal line on 140.
Right click on chart
Click on "Select Data..."
Click "Add" button
Select cell B9 for "Series name:"

Select cell range B10:B11 for series values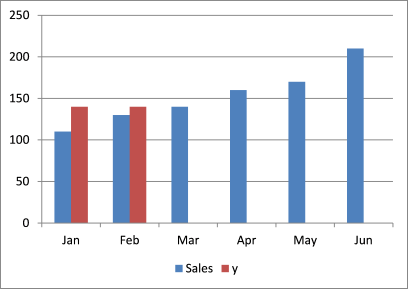 Excel colored the second series differently so you can distinguish them easily. There are only two columns in the second series because of the two cells we selected as series values.
Related article:
Change series chart type
I am now going to change the chart type for the second series.
Right click on the second series on the chart
Click on "Change Series Chart Type"

Select chart type "Scatter with smooth lines"
Click OK button
The second series is now a red line between Jan and Feb.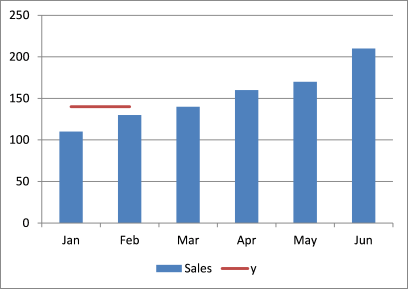 You can change the width and angle of the line by editing the values in cell range A10:B11.
Related post:
Build a horizontal line
Type 0.5 in cell A10
Type 6.5 in cell A11

Right click on chart
Click on "Select Data..."

Select series "y"
Click on "Edit" button

Select cell range A10:A11 for "Series X values:"
Click OK
Click OK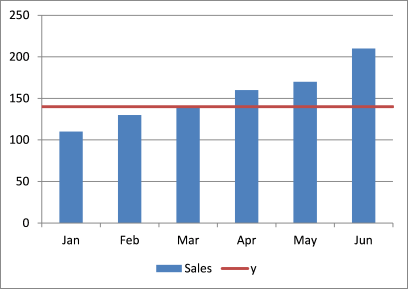 Related post:
Final customizations
These are the steps I made to remove gridlines, smaller line and change the second series name value.
Click on a grid line
Press Delete button on keyboard
Double click on horizontal line
Decrease line width
Change line color
Click Close button
Type "Break even" in cell B9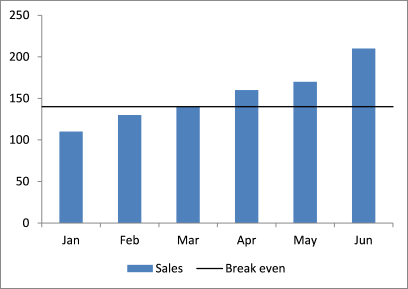 Download excel *.xlsx file