I made a heat map calendar a few months ago and it inspired me to do this post. The heat map calendar changes background color of each cell unlike the technique used here where I change the brightness of each picture.
Here is how I did it:
Step 1 - Find and copy a map
I found a map at the Wikimedia commons website
Copy the map and paste it to your favorite image editing software.
Step 2 - Copy each state/country/territory

Select the "Magic Wand" tool. I made this in paint.net.
Tolerance : 0%
Click inside a state
Copy (Ctrl + c)
Step 3 - Paste to excel
 Start excel
Paste the picture
Select the picture and name it using the name box
Step 4 - Select a transparent color
Click "Color" button
Click "Set Transparent Color"
Click a "white" area on the picture.
Repeat step 2 - 4 and copy all your regions to excel.
Step 6 - Organize pictures
Step 7 - Create a group (optional)
Make a group of all pictures and you will be able to resize the entire map in one step.
Right click on a picture
Click Group | Group
Resize the entire group
Step 8 - Create a table
I downloaded data from wikipedia and created this table:
Table column Column1 contains a single value. The brightness property is ranging from 0 to 1. 0 - darkest and 1 brightest. It is hard to see pictures with a brightness ranging from 0.5 to 1 so I am using values from 0 to 0.5.
Formula in table column %:
=1-([@Population]/MAX([Population])*0.5+0.5)
Formula in table column %2:
=1-([@[Area sq km]]/MAX([Area sq km])*0.5+0.5)
Formula in table column %3:
=1-([@[Pop / km]]/MAX([Pop / km])*0.5+0.5)
These formulas index values from 0 to 0.5. I have made a post about indexing data before: Compare your stock portfolio with S&P500 in excel
Step 9 - Create a drop down list
Select cell D26
Go to tab "Data"
Click "Data Validation" button
Select "List"
Source: United states of America,Population, Area, Population / area
Click OK
There is also a hidden formula in cell F26:
=MATCH(D26,{"United states of America","Population","Area","Population / area"},0)*2
Select cell F26
Press CTRL + 1
Select Custom
Type ;;;
Press OK
Step 10 - Change picture brightness for each picture (vba)
Right click on sheet name
Click "View Code"
Paste code below
Exit VB Editor

Private Sub Worksheet_Change(ByVal Target As Range)
Dim r As Single
Dim c As Integer
Dim Arr() As Variant
If Target.Address = "$D$26" Then
    Arr = Worksheets("Table").Range("Table1").Value
    For r = LBound(Arr, 1) To UBound(Arr, 1)
        With ActiveSheet.Shapes.Range(Arr(r, 1)).PictureFormat
            .Brightness = Arr(r, Range("F26"))
        End With
    Next r
End If
End Sub

Download excel *.xlsm file
If you like maps, check out this post: Use a map in an excel chart
Functions in this post:
MATCH(lookup_value, lookup_array, [match_type])
Returns the relative position of an item in an array that matches a specified value in a specific order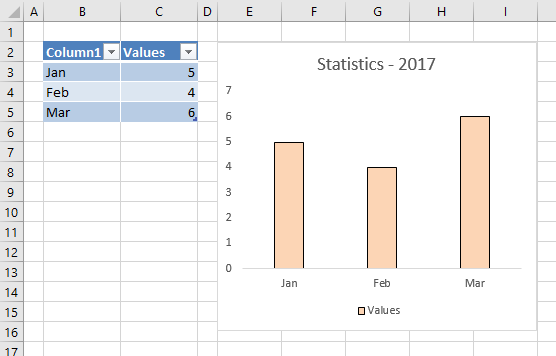 Question: How do I create a chart that dynamically adds the values, as i type them on the worksheet? Answer: […]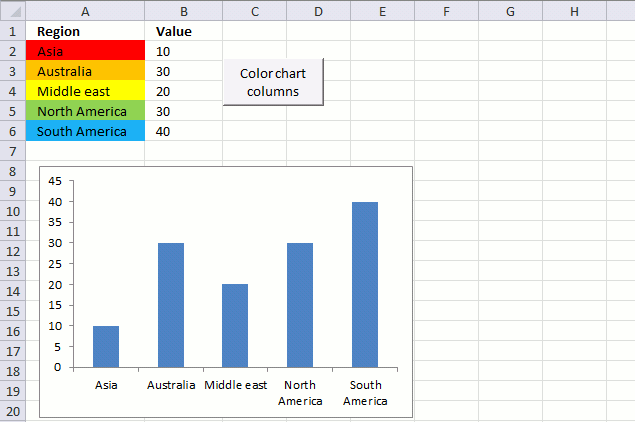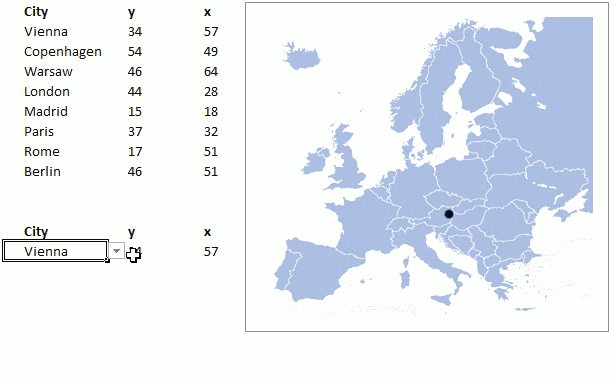 This post describes how to add a map (background picture) to a chart. The following animated picture shows a scatter […]
Excel 2016 owners with an office 365 subscription can now easily build beautiful map charts. Excel uses maps from Bing […]