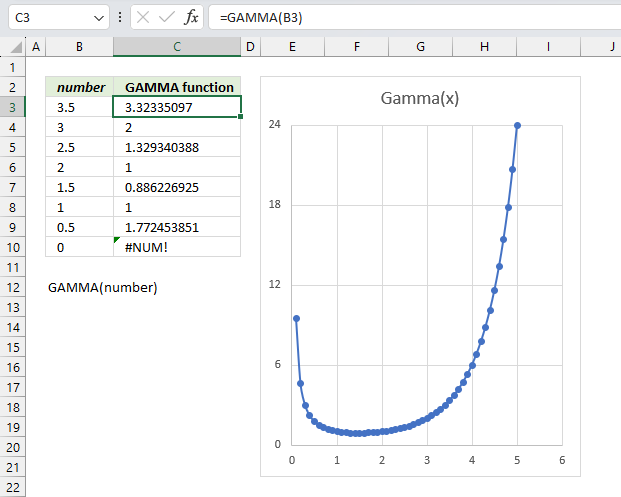 What is the GAMMA function?
The GAMMA function calculates the GAMMA value. It is an extension of the factorial function but the argument is shifted down by 1.
What is the gamma value?
The gamma function can be used to model various phenomena that involve continuous positive variables, such as queuing theory, probability distributions, and combinatorics.
What is queuing theory?
Queuing theory is the mathematical study of waiting lines and queues. There are models developed to analyze queue lengths and waiting times as a random process given arrival rates, service patterns, number of servers, and other factors.
What is a probability distribution?
A probability distribution is a mathematical function giving the probabilities of a random variable's outcomes. They are either discrete values or a continuous range so that the total area sums to 1. Probability distributions are used extensively in statistics.
What are combinatorics?
Combinatorics are methods for counting how many possible arrangements and selections can be made from finite sets. It is useful in computing probabilities, permutations, and combinations through techniques like the binomial theorem.
What is the binomial theorem?
The binomial theorem is a mathematical formula that tells us how to expand expressions of the form (a+b)n, where a and b are any numbers and n is a positive integer.
The binomial theorem is very useful for expanding expressions with large powers, or for finding specific terms or coefficients in such expansions.
GAMMA function Syntax
GAMMA(number)
GAMMA function Arguments
GAMMA function example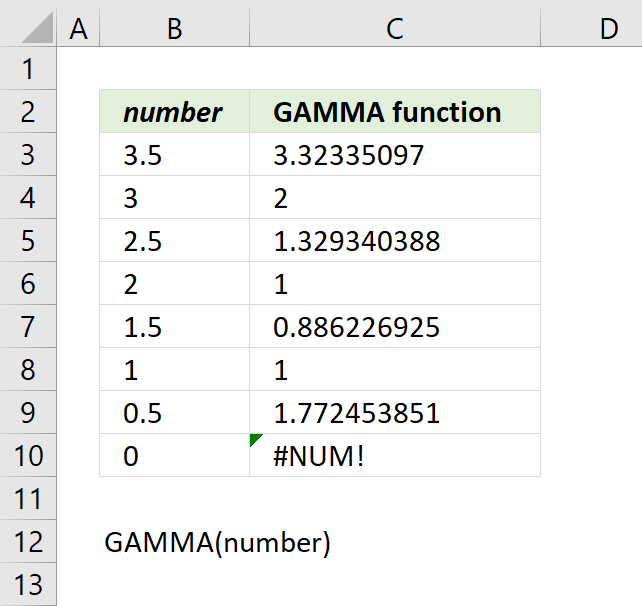 Formula in cell C3:
=GAMMA(B3)
GAMMA function not working
The GAMMA function returns
#NUM! error value if number is a negative integer or 0 (zero).
#VALUE! error value if number contains invalid characters
What is the formula behind the GAMMA function?
The gamma function is a generalization of the factorial function, which is defined only for positive integers.
GAMMA(n) returns the same value as (n-1)! or as FACT(n-1)
For example,
GAMMA(5) returns 24 which is the same as (5-1)!, 5-1 equals 4 and 4! is 4*3*2*1 = 24

Г(N+1) = N * Г(N)
Functions in 'Statistical' category
The GAMMA function function is one of 74 functions in the 'Statistical' category.
Excel function categories
Excel categories