Author:
Oscar Cronquist
Article last updated on February 26, 2018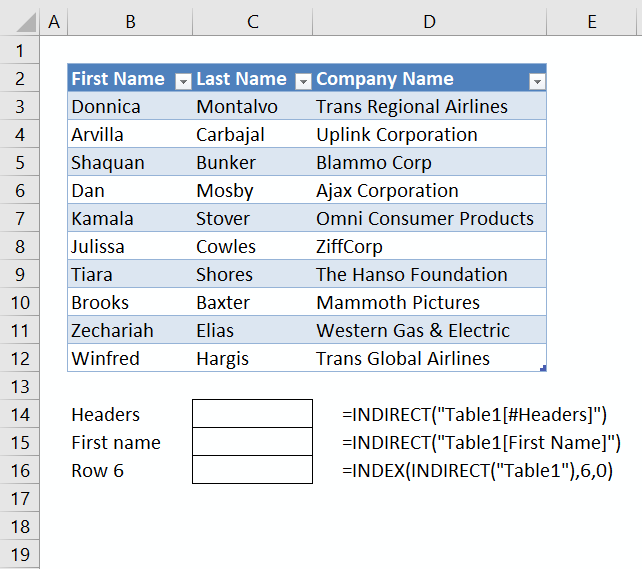 David Hager gave this valuable comment about how to reference a table name in conditional formatting formulas:
=INDIRECT("Table1[Start]")
Watch this video to learn more
You can also use this technique in data validation lists. I used it in the three drop down lists below. The formulas are in C13:C15.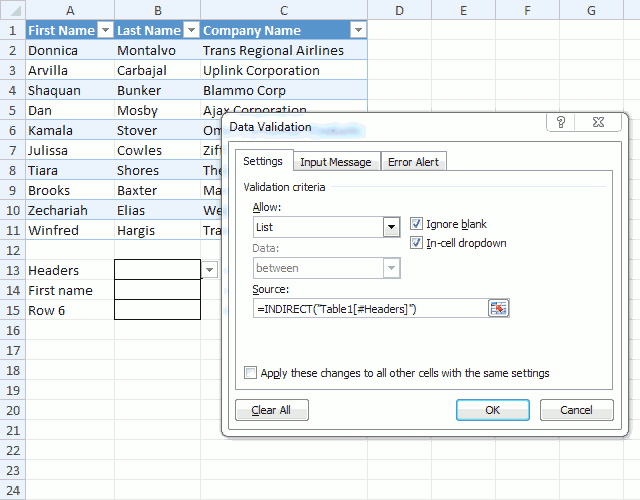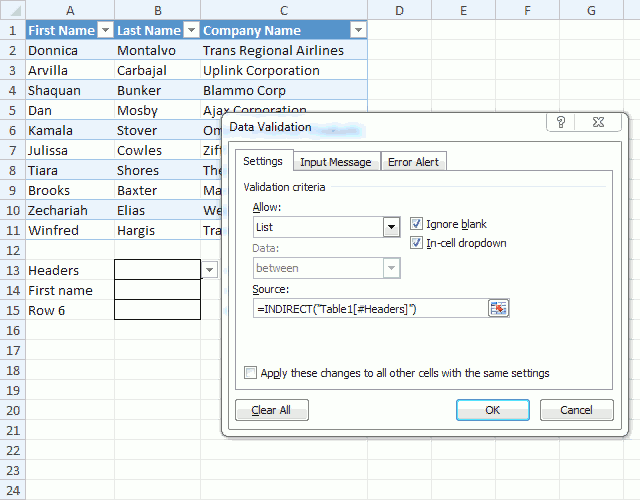 Reference table headers in a drop down list, cell B13:
=INDIRECT("Table1[#Headers]")
Read more about cell references to Excel defined tables (structured references):
Reference a table column in a drop down list, cell B14:
=INDIRECT("Table1[First Name]")
Recommended article
Reference a table row in a drop down list, cell B15:
=INDEX(INDIRECT("Table1"),6,0)
Recommended article:
Read more about Drop Down Lists:
Table names in conditional formatting formulas
I used the same technique in the following example: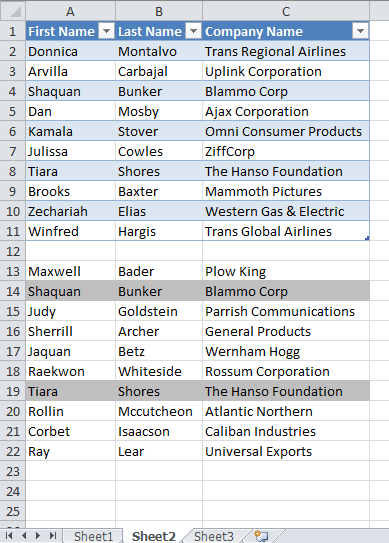 A row is highlighted if a record in cell range A13:C22 is equal to a record in the excel defined table (A1:C11)
Conditional formatting formula, cell range A13:C22:
=COUNTIFS(INDIRECT("Table2[First Name]"),$A13,INDIRECT("Table2[Last Name]"),$B13,INDIRECT("Table2[Company Name]"),$C13)
Read more about the COUNTIFS function:
This article is about comparing records:
Recommended article:
Download excel *.xlsx file
Reference a table in a data validation list or conditional formatting formula.xlsx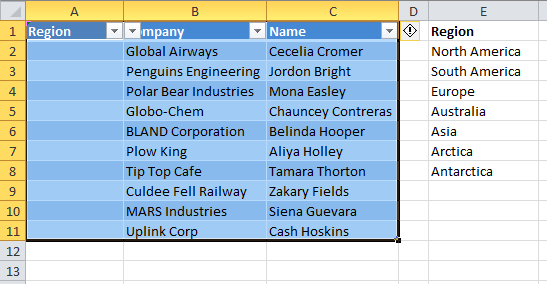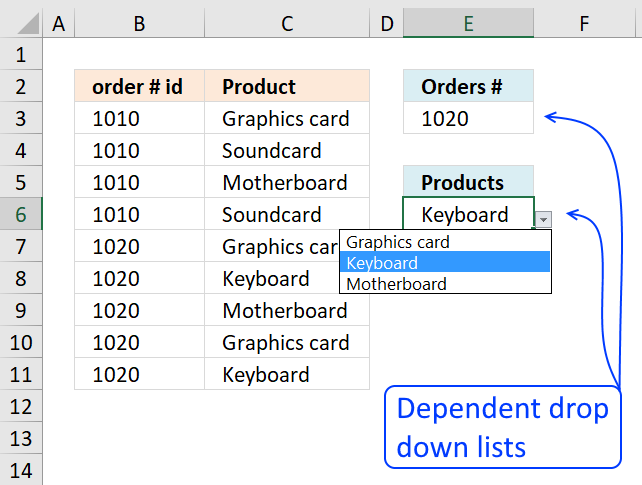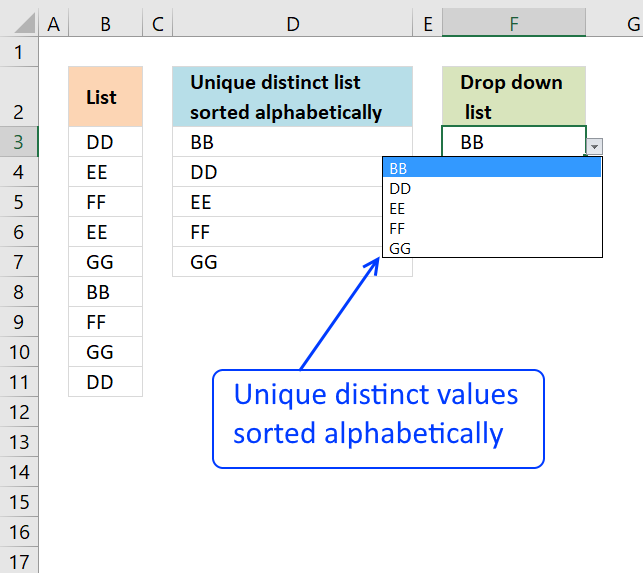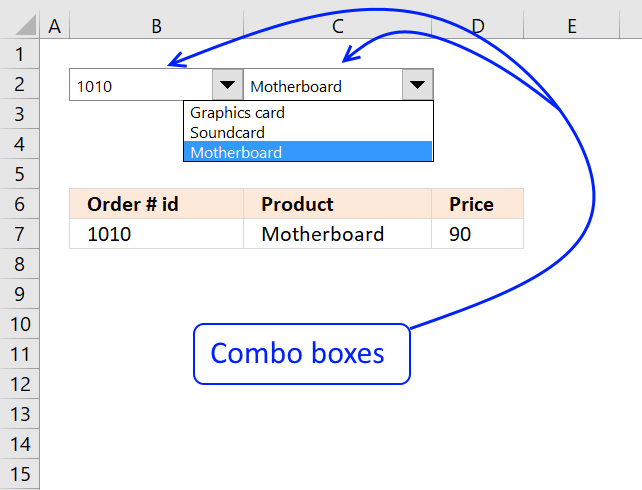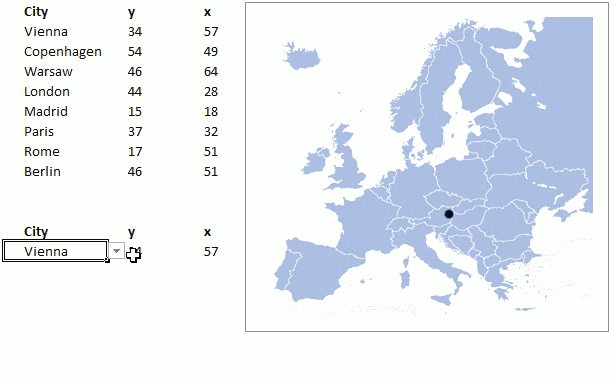 This post describes how to add a map (background picture) to a chart. The following animated picture shows a scatter […]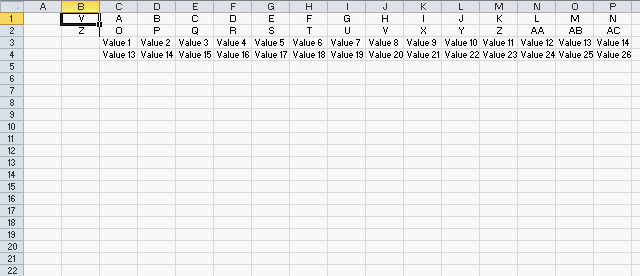 Cyril asks how to hide all columns of a range except columns whose header is found in specific cells. I am […]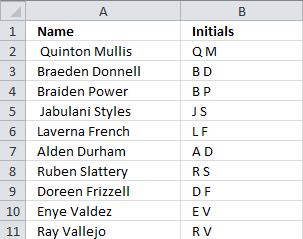 Table of contents Initials from first and last names Initials from first, middle and last names Create middle name initials […]