Question:
I need to setup a template to remove the largest available (Qty and denomination)bills and leave exactly $150 back in the cash drawer in small bills, change and rolls of change. I need to remove exactly $ 1178.29 in large bills and leave the remaining $150 (from a total of $1328.29 in the register) in small bills and change.
Answer:
I am using excel solver to find a solution. Here is how to install the Solver add-in in Excel.
Click Office button
Click Excel Options
Click add-ins
Install Solver
Click OK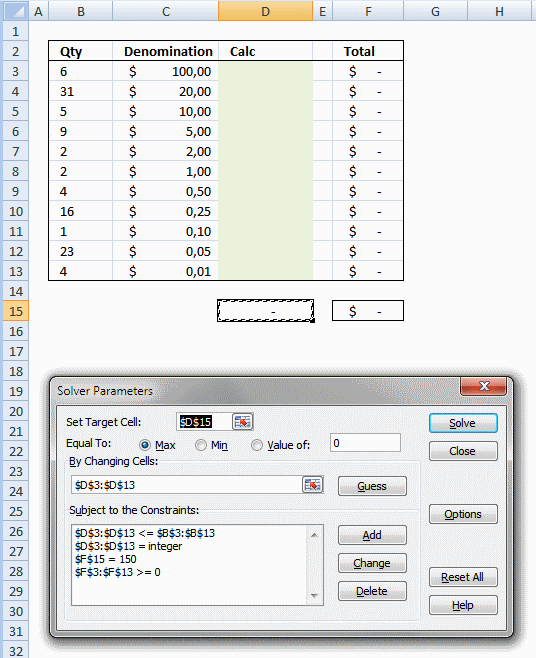 How to use this template
Select max quantities in cell range B3:B13
Start excel solver, it is on tab "Data" on he ribbon.
Change constraint in excel solver
Click $F$15 in "Subject to the constraints:" window
Click Change button
Change value to your specific sum
Click OK
Click options button and enable "Assume Linear Model".
Click OK.
Click Solve button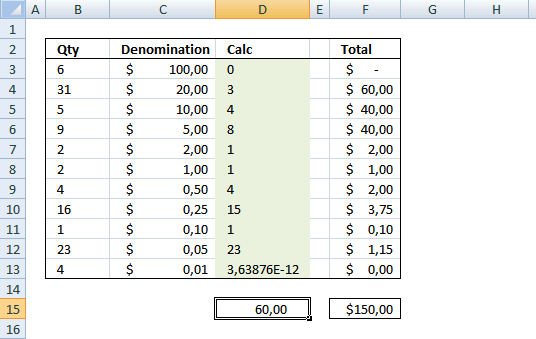 Download Excel file

cash-drawer-bill-extractor.xls