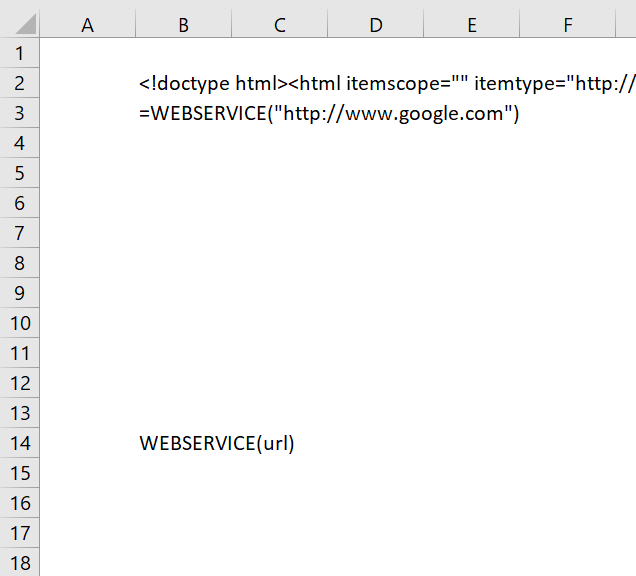 The WEBSERVICE function gets data from a web service on the Internet or Intranet.
The function returns a #VALUE error if the returned value is above the cell limit of 32767 characters.
Formula in cell B2:
=
WEBSERVICE
("https://www.google.com")
Excel Function Syntax
WEBSERVICE(url)
Arguments
| | |
| --- | --- |
| url | Required.  An URL (Uniform Resource allocator) to a webpage on the internet or the intranet. |
Comments
HTTP:// and HTTPS:// are supported.
An URL larger than 2048 returns #VALUE error.
Protocols like ftp:// and file:// are not supported, the WEBSERVICE function returns #VALUE error.
Functions in this article
Functions in 'Web' category
The WEBSERVICE function function is one of many functions in the 'Web' category.
Returns a URL-encoded string.
Extracts specific values from XML content by using the given xpath.
Gets data from a web service on the Internet or Intranet.
Excel function categories
Excel functions that let you resize, combine, and shape arrays.
Functions for backward compatibility with earlier Excel versions. Compatibility functions are replaced with newer functions with improved accuracy. Use the new functions if compatibility isn't required.
Perform basic operations to a database-like structure.
Functions that let you perform calculations to Excel date and time values.
Let's you manipulate binary numbers, convert values between different numeral systems, and calculate imaginary numbers.
Calculate present value, interest, accumulated interest, principal, accumulated principal, depreciation, payment, price, growth, yield for securities, and other financial calculations.
Functions that let you get information from a cell, formatting, formula, worksheet, workbook, filepath, and other entitites.
Functions that let you return and manipulate logical values, and also control formula calculations based on logical expressions.
These functions let you sort, lookup, get external data like stock quotes, filter values based a condition or criteria, and get the relative position of a given value in a specific cell range. They also let you calculate row, column, and other properties of cell references.
You will find functions in this category that calculates random values, round numerical values, create sequential numbers, trigonometry, and more.
Calculate distributions, binomial distributions, exponential distribution, probabilities, variance, covariance, confidence interval, frequency, geometric mean, standard deviation, average, median, and other statistical metrics.
Functions that let you manipulate text values, substitute strings, find string in value, extract a substring in a string, convert characters to ANSI code among other functions.
Get data from the internet, extract data from an XML string and more.
Excel categories