I got 6 events with different dates...
Event - DATE START - DATE END
1
2
3
4
5
6
On sheet 2 i have a Year Calander (365 Days)I need to do a conditional formatting to highlight the days which i have events.The 6 is just a start and the list will go longer...I want to have a pictorial view of the calendar on where the events fall in the year which is SHEET 2.
Sheet 1 i just key in the dates for the start and end....
Answer:
How to change year
You can change the year in cell K2 and the calendar changes almost instantly.
How to add or remove events
The events are in an excel defined table. You can add or remove rows by right clicking on a cell and select Insert or Delete.
You can also add a blank row by selecting the last cell in the table.
Press Tab key.
You can move the table to any sheet you like.
How to change formatting color
Select cell range B6:X38
Go to tab "Home"
Click "Conditional formatting" button
Click "Manage Rules..."
Select the rule with grey formatting
Click "Edit Rule..." button
Click "Format..." button
Go to tab "Fill"
Pick a different color
Click OK
Click OK
Download excel *.xlsx file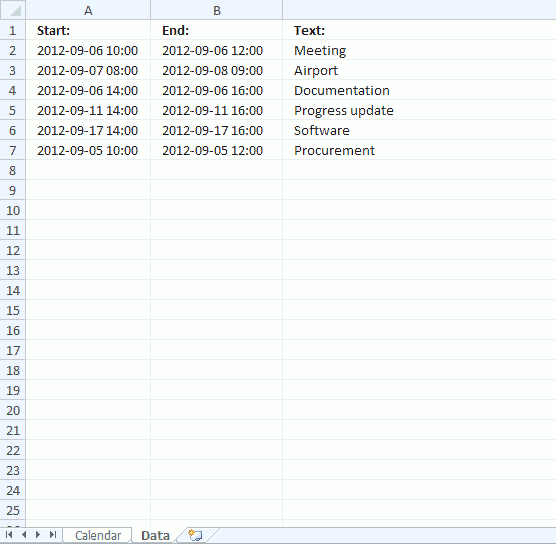 This calendar lets you schedule events on the data sheet. Select a cell (calendar date) and events on that day […]
Tesh asks: How easy is it to modify this for recurring tasks (weekdays, weekly, monthly, quarterly and yearly) and maybe […]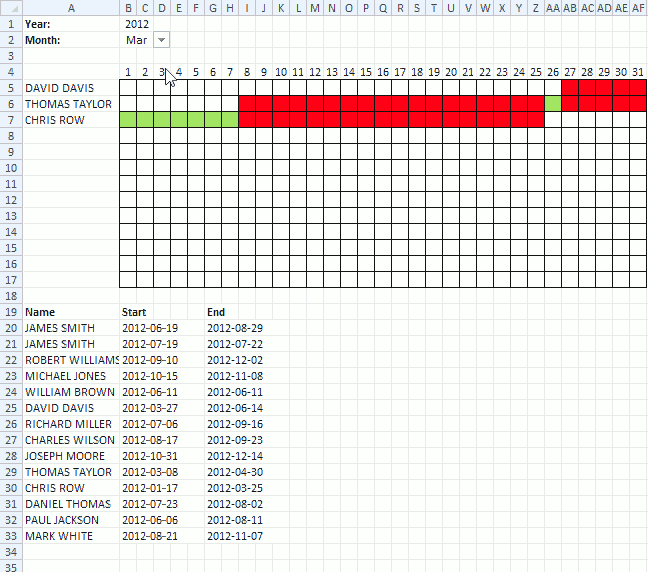 Geoff asks: Hi Oscar, I have a cross reference table we use for shift scheduling. The x-axis is comprised of […]
The calendar shown in the image above highlights events based on frequency. It is made only with a few conditional […]