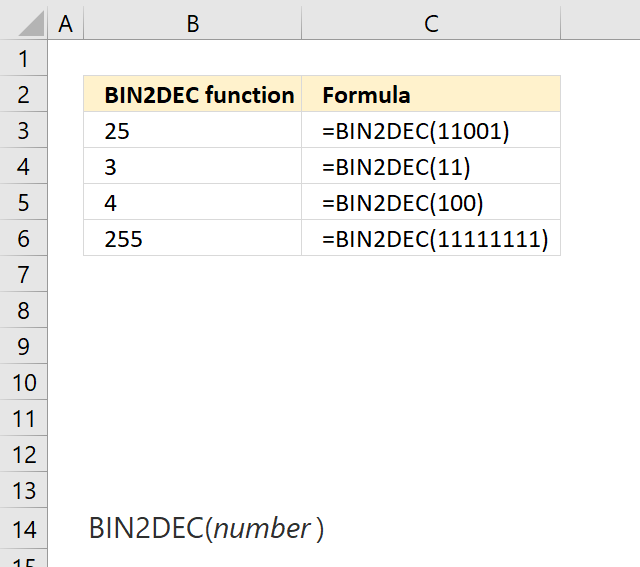 The BIN2DEC function converts a binary number to decimal.
Formula in cell B3:
=BIN2DEC(11001)
Excel Function Syntax
BIN2DEC(number)
Arguments
| | |
| --- | --- |
| number | Required. The binary number you want to convert. |
Comments
Maximum binary values are 10 characters.
Number cannot contain more than 10 characters (10 bits).
To convert a decimal value to binary use the DEC2BIN function.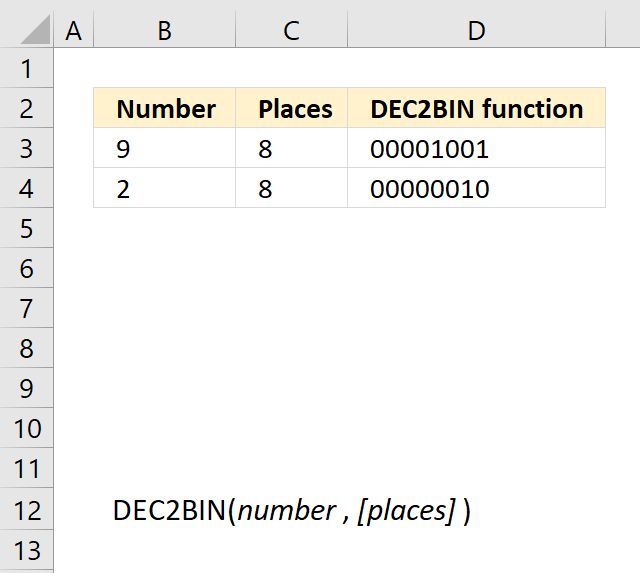 How to use the DEC2BIN function
The DEC2BIN function converts a decimal number to a binary number. Formula in cell D3: =DEC2BIN(B3,C3) Excel Function Syntax DEC2BIN(number, […]
Functions in 'Engineering'
The BIN2DEC function function is one of many functions in the 'Engineering' category.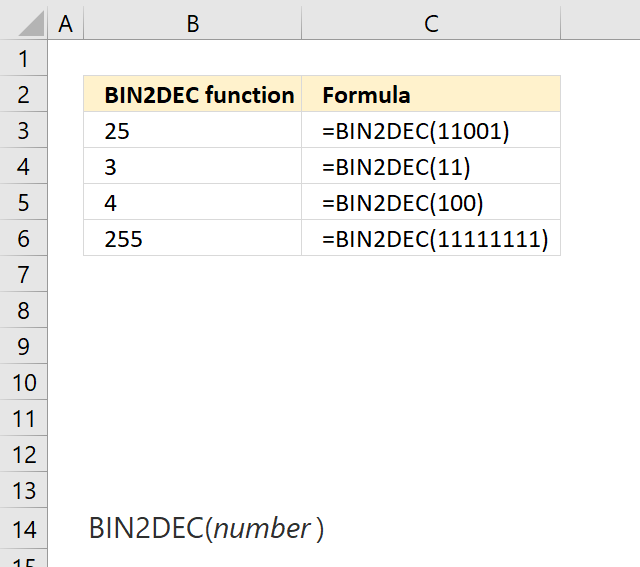 How to use the BIN2DEC function
The BIN2DEC function converts a binary number to decimal. Formula in cell B3: =BIN2DEC(11001) Excel Function Syntax BIN2DEC(number) Arguments number […]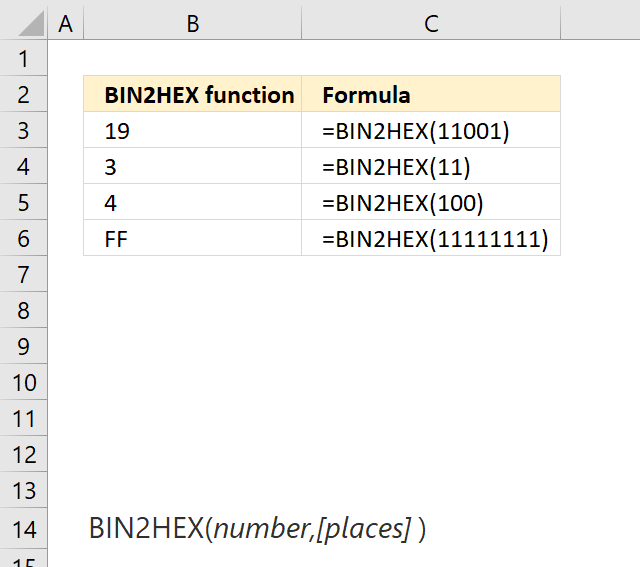 How to use the BIN2HEX function
The BIN2HEX function converts a binary number to hexadecimal. Formula in cell B3: =BIN2HEX(11001) Excel Function Syntax BIN2HEX(number,[places]) Arguments number […]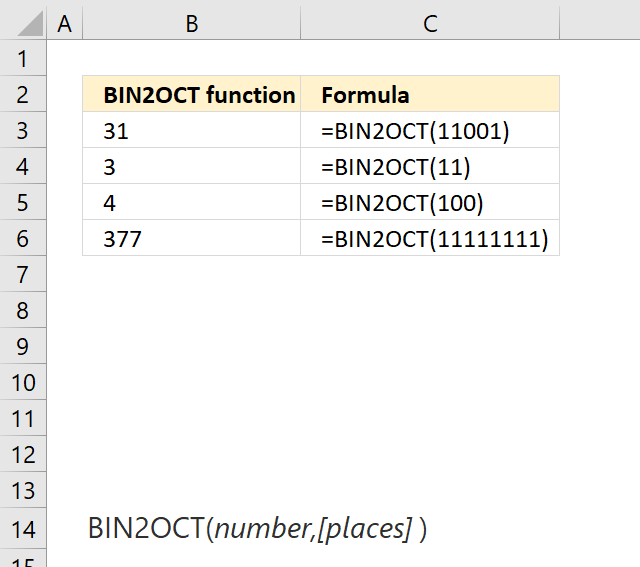 How to use the BIN2OCT function
The BIN2OCT function converts a binary number to octal. Formula in cell B3: =BIN2OCT(11001) Excel Function Syntax BIN2OCT(number,[places]) Arguments number […]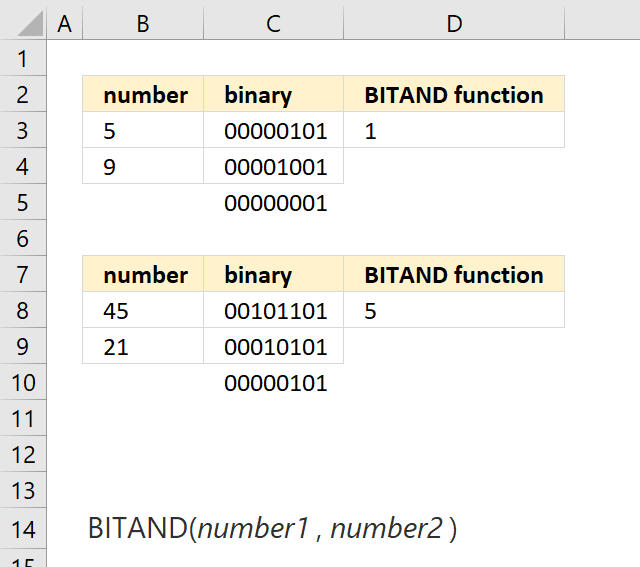 How to use the BITAND function
The BITAND function calculates a bitwise 'AND' of two numbers. The function performs AND logic bit by bit on the numbers […]
How to use the BITLSHIFT function
The BITLSHIFT function calculates a number whose binary representation is shifted left by a specified number of bits. Formula in […]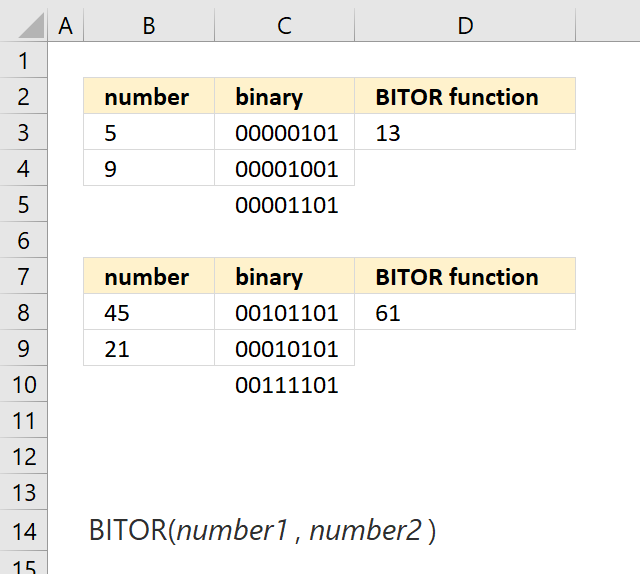 The BITOR function performs a bitwise 'OR' of two numbers. Bitwise meaning each digit in the binary equivalent. Formula in […]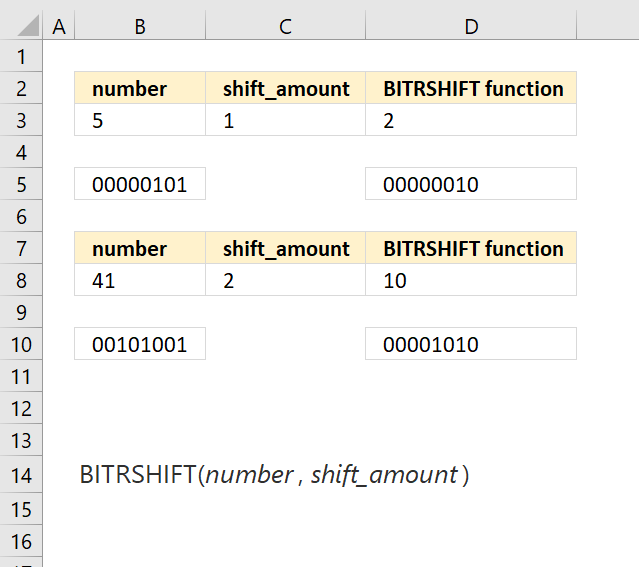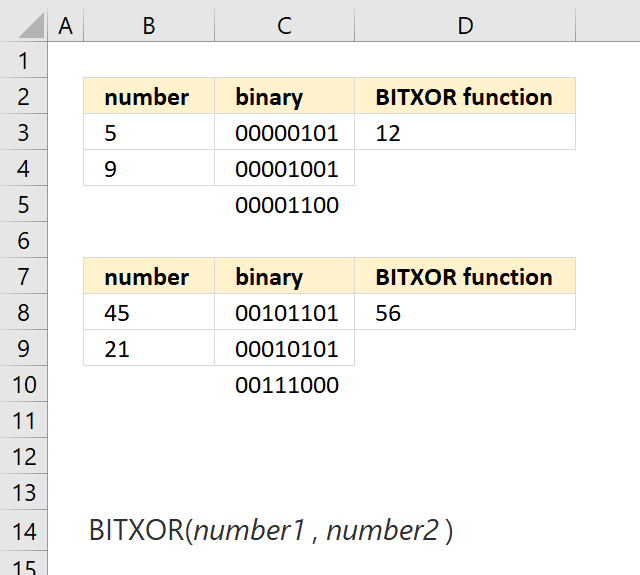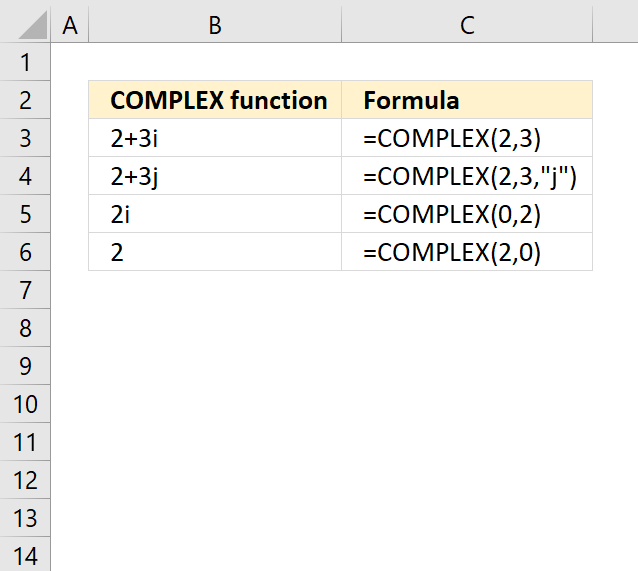 How to use the COMPLEX function
The COMPLEX function returns a complex number based on a real and imaginary number. Formula in cell B3: =COMPLEX(2,3) Excel […]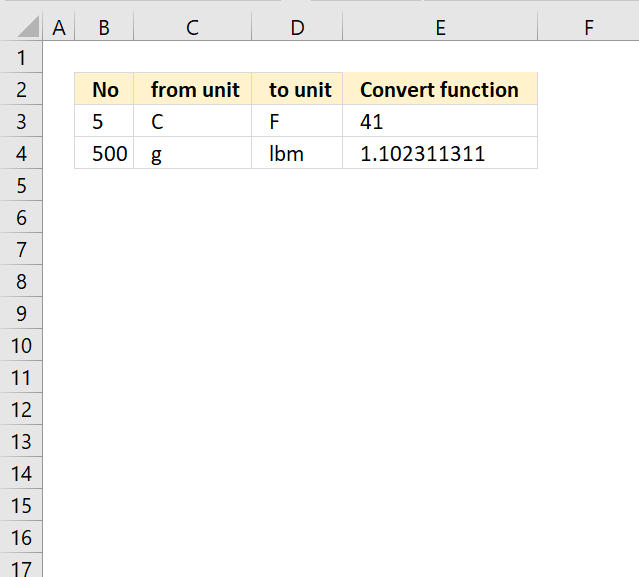 How to use the CONVERT function
The CONVERT function converts a number from one measurement system to another. Formula in cell E3: =CONVERT(B3, C3, D3) The […]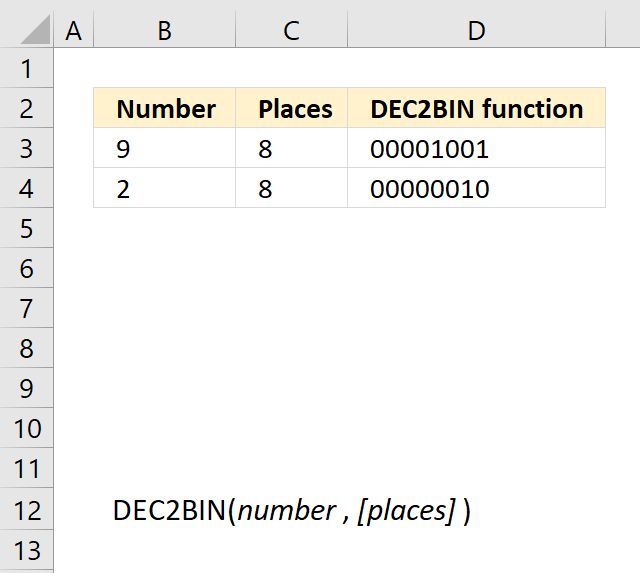 How to use the DEC2BIN function
The DEC2BIN function converts a decimal number to a binary number. Formula in cell D3: =DEC2BIN(B3,C3) Excel Function Syntax DEC2BIN(number, […]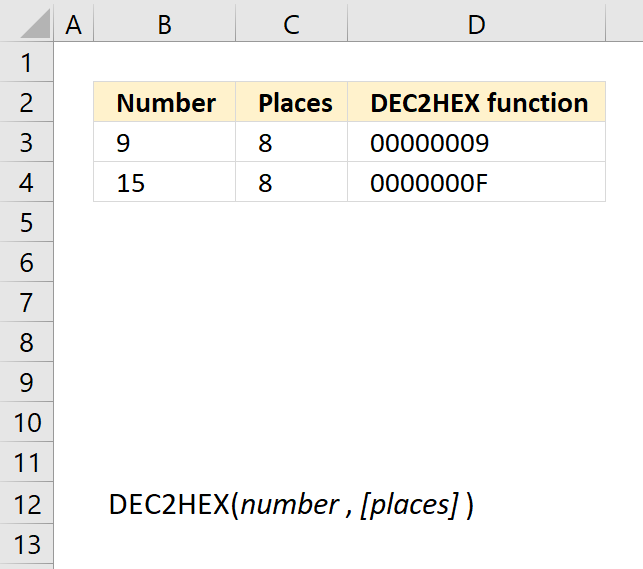 How to use the DEC2HEX function
The DEC2HEX function converts a decimal number to a hexadecimal number. Formula in cell D3: =DEC2HEX(B3,C3) Excel Function Syntax DEC2HEX(number, […]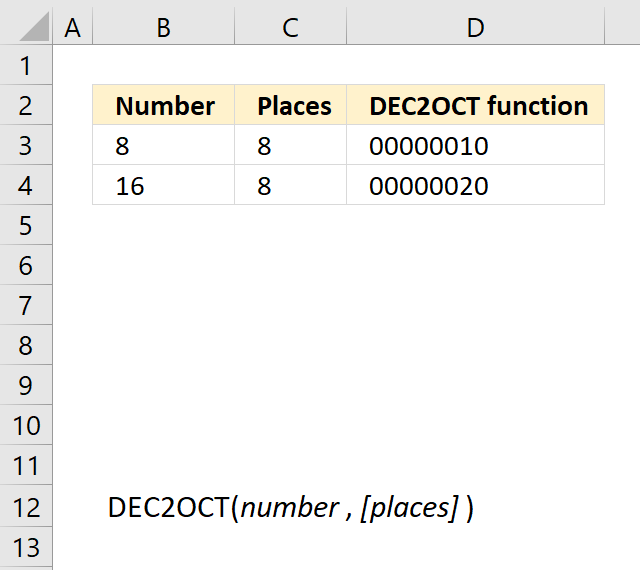 How to use the DEC2OCT function
The DEC2OCT function converts a decimal number to an octal number. Formula in cell D3: =DEC2OCT(B3,C3) Excel Function Syntax DEC2OCT(number, […]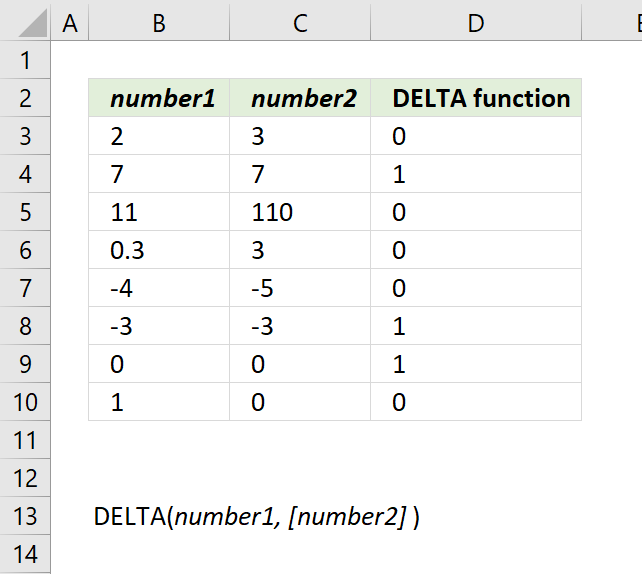 The DELTA function evaluates whether two numerical values are equal. This function is also known as the Kronecker Delta function, read […]