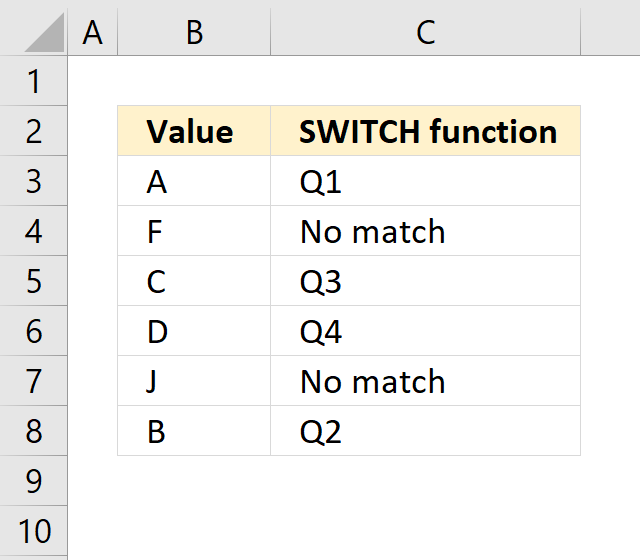 The SWITCH function returns a given value determined by an expression and a list of values. If the expression matches one of the values in the list the corresponding result value is returned. If no value matches an optional default value is returned by the function.
Formula in cell D3:
=SWITCH(C3,"A","Q1","B","Q2","C","Q3","D","Q4","No match")
Excel Function Syntax
SWITCH(expression, value1, result1, [default or value2, result2],…[default or value3, result3])
Arguments
| | |
| --- | --- |
| expression | Required. This argument determines which value to be returned. If it matches the value argument the corresponding value in the result argument is returned. |
| value1 | Required. If this value matches the expression the corresponding result argument is returned. |
| result1 | Required. The value to be returned. |
| [value2] | Optional. Up to 125 additional arguments. |
| [result2] | Optional. Up to 125 additional arguments. |
| [default] | Optional. This is the value to be returned if no other value matches, this must be the last argument in the function. |
Comments
This feature is only available if you have an Office 365 subscription
Functions in 'Logical'
The SWITCH function function is one of many functions in the 'Logical' category.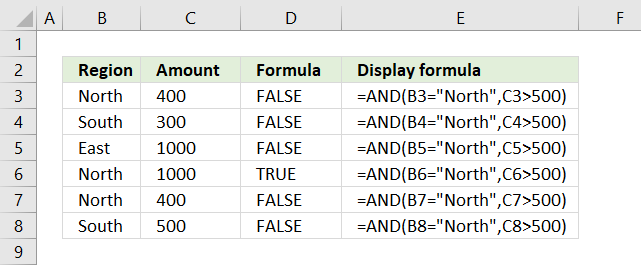 The image above demonstrates the AND function with two logical expressions. If the value in column B is equal to […]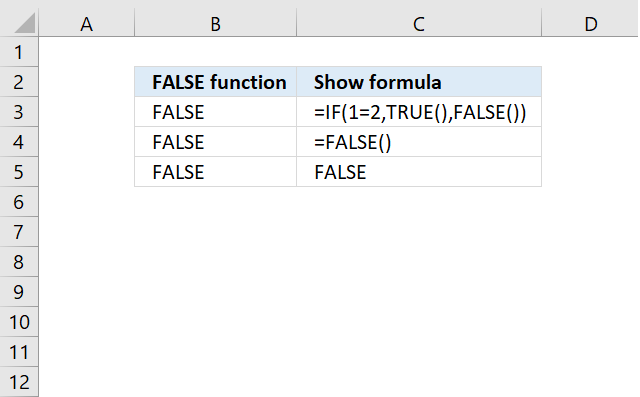 The FALSE function returns the logical (boolean) value FALSE. Excel Function Syntax FALSE() Arguments The FALSE function has no arguments. […]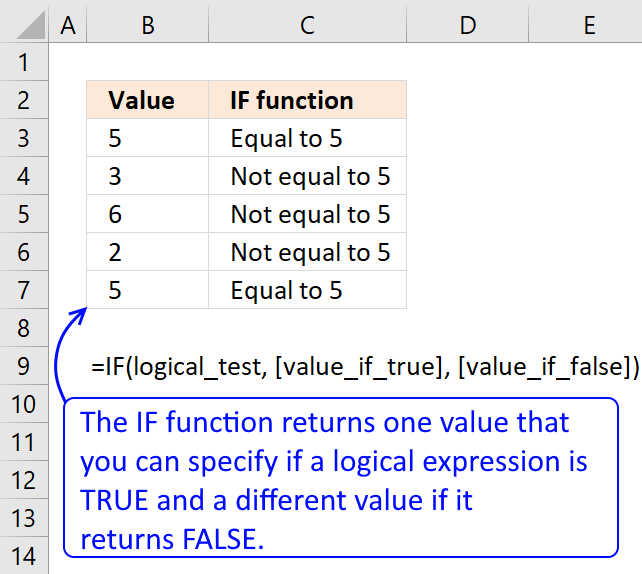 Checks if a logical expression is met. Returns a specific value if TRUE and another specific value if FALSE.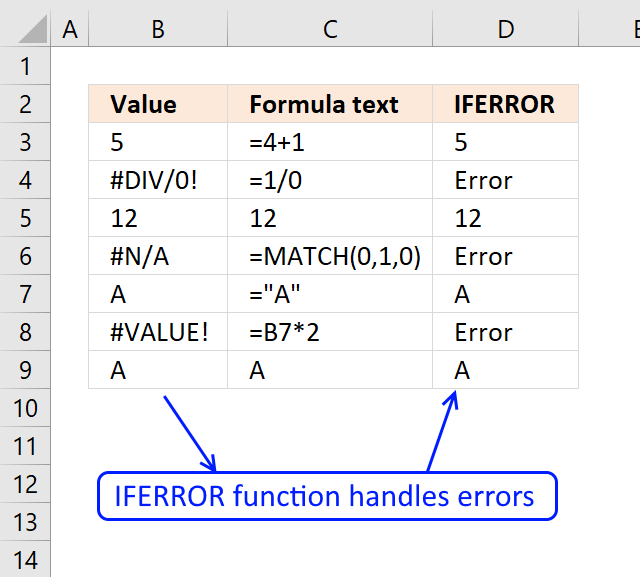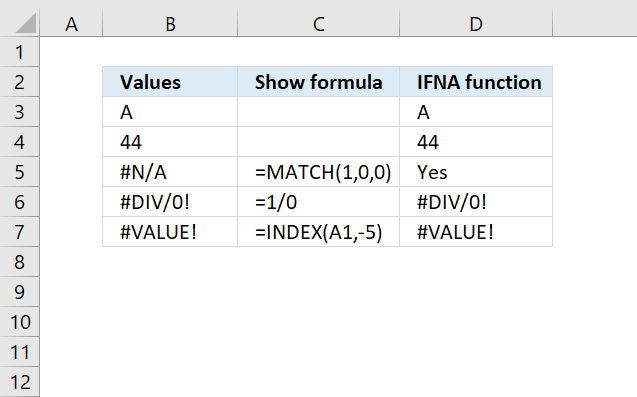 The IFNA function handles #N/A errors only, it returns a specific value if the formula returns a #N/A error. Formula […]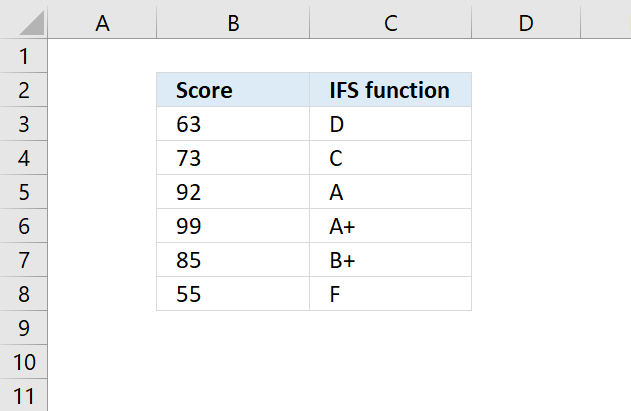 The IFS function checks whether one or more conditions are met and returns a value that corresponds to the first […]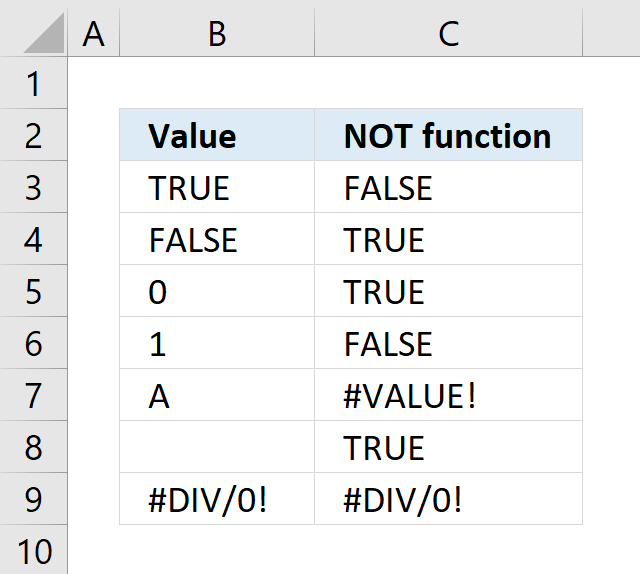 The NOT function returns the boolean opposite to the given argument. TRUE returns FALSE and FALSE returns TRUE. Formula in […]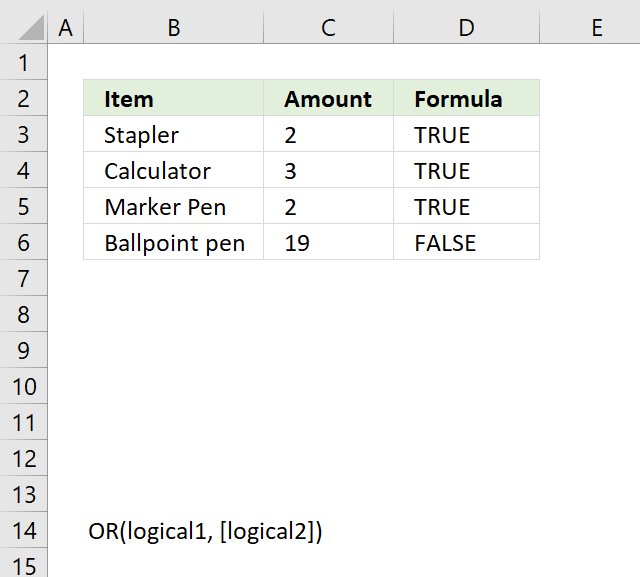 The OR function allows you to carry out a logical test in each argument and if at least one argument returns […]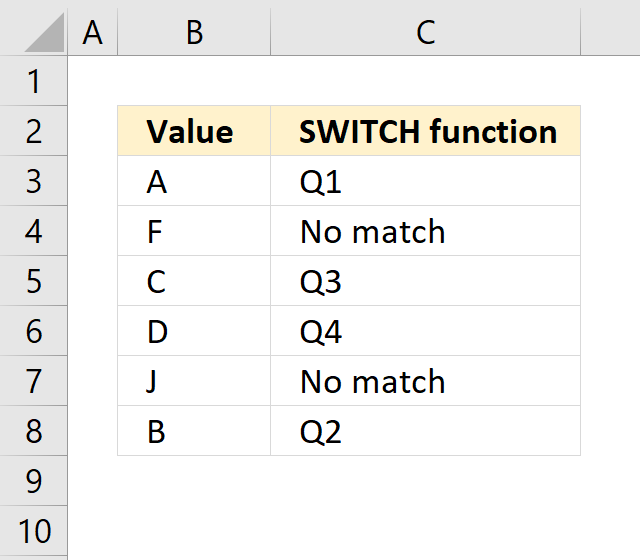 How to use the SWITCH function
The SWITCH function returns a given value determined by an expression and a list of values. If the expression matches […]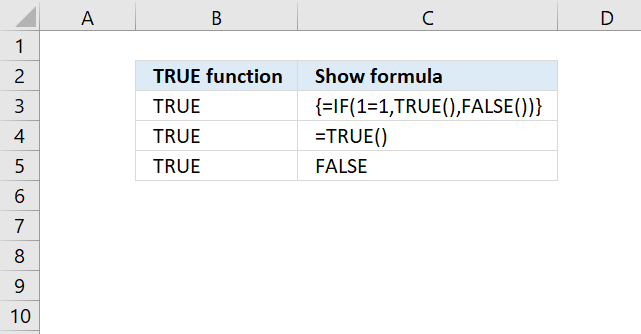 Returns the logical (boolean) value TRUE. Excel Function Syntax TRUE() Arguments The TRUE function has no arguments. Comments Excel interprets […]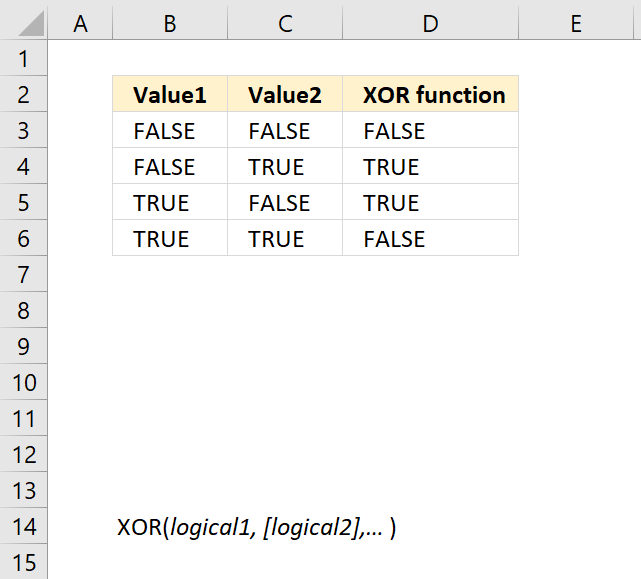 The XOR function was introduced in Excel 2013 and calculates the logical exclusive OR meaning if at least one of the […]