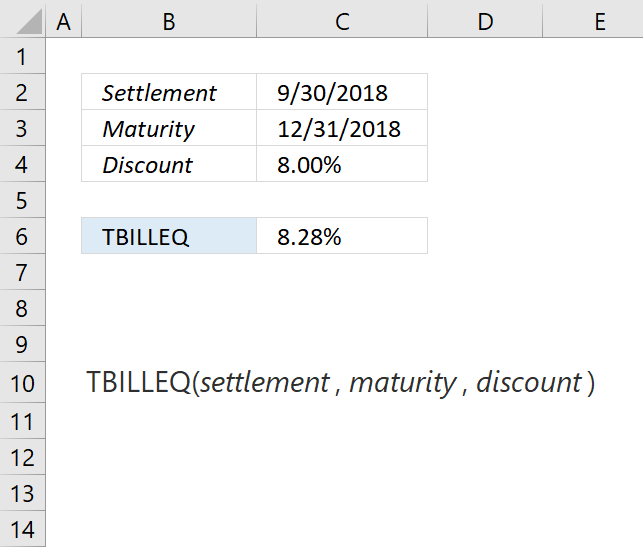 The TBILLPRICE function calculates the equivalent bond yield for a Treasury bill.
Formula in cell C6:
=TBILLEQ(C2,C3,C4)
Excel Function Syntax
TBILLEQ(settlement, maturity, discount)
Arguments
| | |
| --- | --- |
| settlement | Required. The Treasury bill's settlement date which is the date after the issue date. |
| maturity | Required. The date when the security expires. |
| discount | Required. The Treasury bill's discount rate. |
Comments
Treasury bills are issued at a discount from the face value, the interest paid is the face value - purchase price.
Keep in mind to use the DATE function if you enter dates in the function instead of using cell references.
For example,
=TBILLEQ(DATE(2018, 9, 30), DATE(2018, 12, 31), C4)
Date arguments are truncated to integers.
The TBILLEQ function returns:
#VALUE! error if settlement or maturity is not a valid data type.
#NUM! error if

discount <=0 (zero)
settlement > maturity, or if maturity is more than a year after the settlement
Calculation formula:
TBILLEQ = (365 * rate)/(360-(rate*DSM))
DSM = days between settlement to maturity ignoring maturity date that is more than a year after settlement.