Author:
Oscar Cronquist
Article last updated on May 02, 2018
The RANK function calculates the rank of a specific number compared to a list of numbers.
Formula in cell C3:
=RANK(B3,$B$3:$B$7,1)
Excel Function Syntax
RANK(number,ref,[order])
Arguments
| | |
| --- | --- |
| number | Required. The number you want to calculate the rank for. |
| Ref | Required. An array or cell reference to a list of numerical values. |
| Order | Optional. How to rank the number, 1 - ascending or 0 - descending. If omitted - descending order. |
Comments
Did you know that it is possible to rank text strings? Formula in cell C3:
=COUNTIF($B$3:$B$7,"<"&B3)
The COUNTIF function allows you to do that, read more:
Functions in 'Compatibility'
The RANK function function is one of many functions in the 'Compatibility' category.
How to use the CONFIDENCE function
The CONFIDENCE function calculates the confidence interval for a population mean, using a normal distribution. Formula in cell B6: =CONFIDENCE(B3, […]
The FLOOR function rounds a number down, toward zero, to the nearest multiple of significance. Excel Function Syntax FLOOR(number, significance) Arguments […]
The MODE function calculates the most frequent number in a cell range. Number 4 exists 3 times on picture above […]
The RANK function calculates the rank of a specific number compared to a list of numbers. Formula in cell C3: […]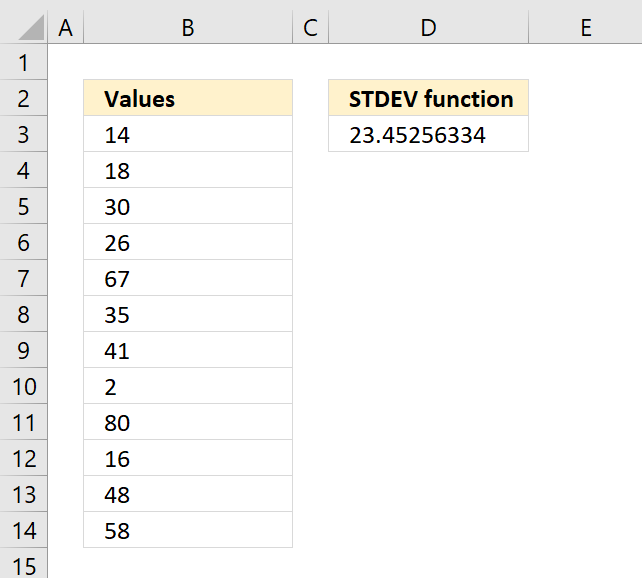 The STDEV function calculates the standard deviation of a group of values. Standard deviation shows how much the values differ from the […]