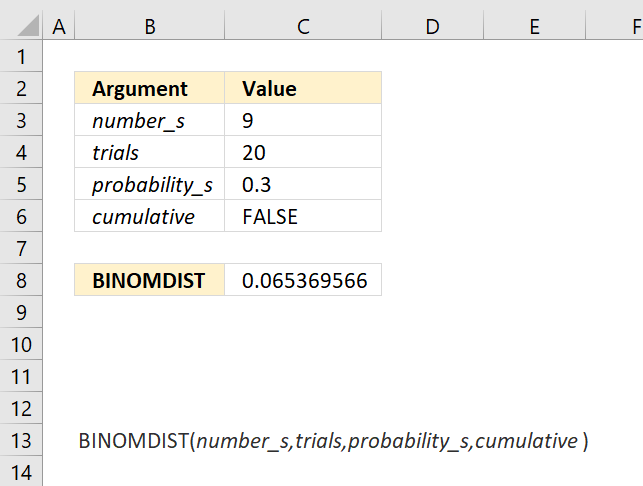 The BINOMDIST function calculates the individual term binomial distribution probability, use this function when
the success probability is constant through all trials
you know the number of trials
the outcome is either a success or failure
each trial is independent of the other trials.
The BINOMDIST function is outdated and replaced by the BINOM.DIST function.
Formula in cell C8:
=BINOMDIST(C3,C4,C5,C6)
Excel Function Syntax
BINOMDIST(number_s,trials,probability_s,cumulative)
Arguments
number_s
Required. The number of successful tests.
trials
Required. How many independent tests.
probability_s
Required. The probability of success in each test.
cumulative
Required. A boolean value.
TRUE - cumulative distribution function
FALSE - probability mass function
Comments
The BINOMDIST function returns
#VALUE! error value if number_s, trials or probability_s argument is non-numeric.
#NUM! error value if:

number_s <= 0 (zero)
number_s > trials
probability_s < 0 (zero)
probability_s > 1
A = B
number_s and trials are converted into integers.
Functions in 'Compatibility' category
The BINOMDIST function function is one of many functions in the 'Compatibility' category.
Excel function categories
Excel categories