Question: How do I count the number of unique months in excel?
Answer: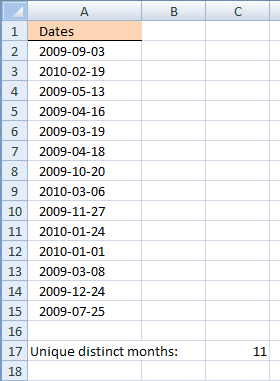 Array formula in C17:
=SUM(IF(MATCH(DATE(YEAR(List), MONTH(List), 1), DATE(YEAR(List), MONTH(List), 1), 0)=ROW(List)-MIN(ROW(List))+1, 1, 0)) + CTRL + SHIFT + ENTER
Named ranges
List (A2:A15)
What is named ranges?
How to customize the formula to your excel spreadsheet
Change the named range.
Download excel sample file for this tutorial.
Count unique distinct months.xls
(Excel 97-2003 Workbook *.xls)
Functions in this article:
IF(logical_test;[value_if:true];[value_if_false])
Checks whether a condition is met, and returns one value if TRUE, and another value if FALSE
MATCH(lookup_value;lookup_array; [match_type]
Returns the relative position of an item in an array that matches a specified value
DATE(year,month,day) returns the number that represents the datein Microsoft Office Excel date-time code
MONTH(serial_number) returns the month, a number from 1 (January) to 12 (December)
YEAR(serial_number) returns the year of a date, an integer of the range 1900-9999
SUM(number1,[number2],)
Adds all the numbers in a range of cells
MIN(number1,[number2])
Returns the smallest number in a set of values. Ignores logical values and text
This blog article is one out of twelve articles on the same subject "count unique and unique distinct".

Count unique distinct months in excel
This article describes how to count unique distinct values. What are unique distinct values? They are all values but duplicates are […]
This article describes how to count unique distinct values. What are unique distinct values? They are all values but duplicates are […]