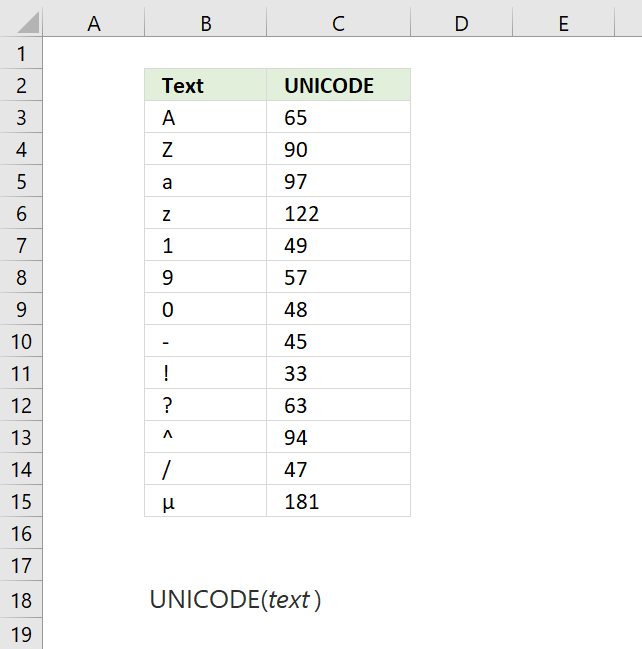 What is the UNICODE function?
Use the UNICODE function to return a Unicode number based on the first character of a given text string.
What is UNICODE?
Unicode provides a universal character set and encoding schemes to represent text consistently across computing technologies and interfaces. It supports internationalization and localization needs which enables global websites and apps to display text and accept input in any language script like Arabic, Chinese, Hindi etc. without restrictions.
Provides a unique number for every character, regardless of the platform, device, application, or language.
With the capacity to represent over 1.1 million characters, Unicode encompasses all the world's languages and writing systems in one unified encoding standard.
Allows data exchange and processing of text in any language combination.
Maintained by the Unicode Consortium and coordinated with ISO standards.
Common Unicode encodings are UTF-8, UTF-16, and UTF-32, which provide variable length or fixed width representations.
What is a character set?
A character set is a defined collection of textual characters used to represent writing systems, symbols, and numbers. They provide a mapping between numeric codes and human-readable characters. Common character sets include ASCII, Unicode, UTF-8, Latin-1, etc.
What is the difference between the UNICODE function and the CODE function?
The UNICODE function returns the Unicode code point value of the first character in a text string, the CODE function returns the ANSI code value. UNICODE is more versatile for different languages and characters, CODE is limited to basic ANSI.
What is the difference between UNICODE and ANSI?
ANSI uses 8-bit encoding, unicode uses variable width encoding of 8-bit to 32-bit. ANSI is limited to English, unicode enables internationalization and localization. ANSI predates Unicode and is a legacy standard, Unicode is a newer standard.
1. UNICODE function Syntax
UNICHAR(text)
2. UNICODE function Arguments
| | |
| --- | --- |
| text | Required. The character for which you want the corresponding Unicode number. |
3. UNICODE function example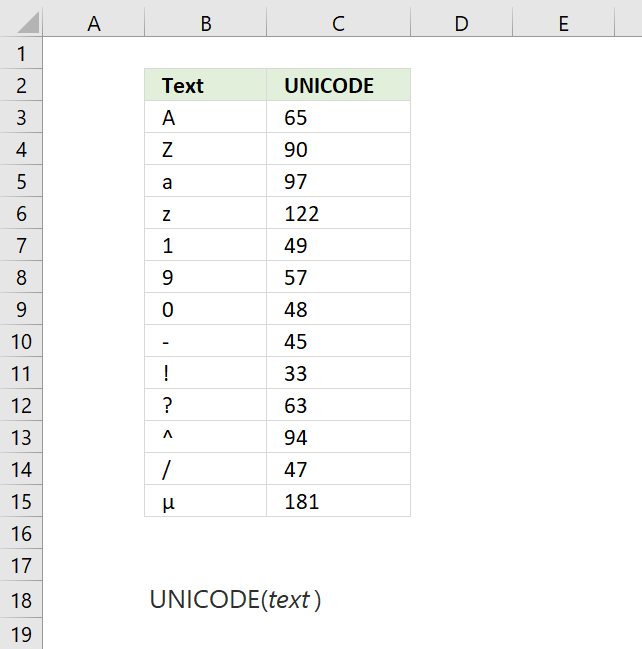 The UNICODE function takes the first character in a given text string and converts it to a number representing that character's code point in the Unicode system.
Formula in cell C3:
=UNICODE(B3)
UNICODE("A") takes the first character "A" and converts it to its Unicode code point which is the number 65.
How to convert the Unicode to hexadecimal?
The UNICODE function returns a number in the base 10 numeral system. Use the DEC2HEX function to convert the number to hexadecimal.
="U"&DEC2HEX(UNICODE(B3),4)
Explaining formula
Step 1 - Convert character to unicode
UNICODE(B3)
becomes
UNICODE("A")
and returns 65.
Step 2 - Convert decimal to hexadecimal
The DEC2HEX function converts a decimal number to a hexadecimal number.
Function syntax: DEC2HEX(number, [places])
DEC2HEX(UNICODE(B3),4)
becomes
DEC2HEX(65,4)
and returns 0041 in hexadecimal.
Step 3 - Concatenate strings
The ampersand character lets you concatenate strings in an Excel formula.
"U+"&"0041"
and returns "U+0041".
What is unicode in hexadecimal?
The formal Unicode notation to represent code points uses the format:
U+XXXX
Where:
U+ - Indicates a Unicode code point value
XXXX - Is the code point specified as a 4-digit hexadecimal number
Some examples:
U+0041 - Code point for capital letter A
4. UNICODE function not working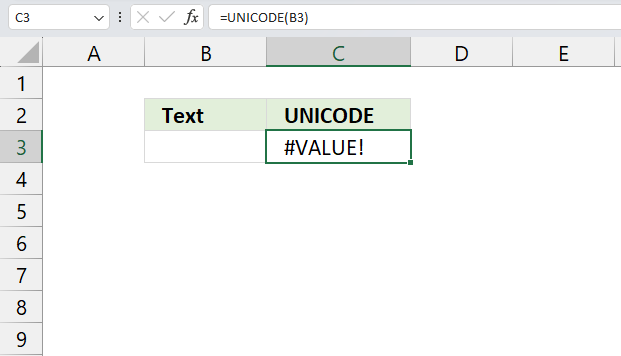 The UNICODE function returns:
#VALUE! error value if data type is not valid.
#VALUE! if the unicode numbers is outside the allowed range.
Get the Excel file

How-to-use-the-UNICODE-function.xlsx
Useful links
Functions in 'Text' category
The UNICODE function function is one of many functions in the 'Text' category.
Excel function categories
Excel categories