Author:
Oscar Cronquist
Article last updated on January 19, 2018
This is an answer to Shawna´s question. The following user defined function merges up to 255 cell ranges and removes blanks. Later in this post I will also demonstrate how to sort these values.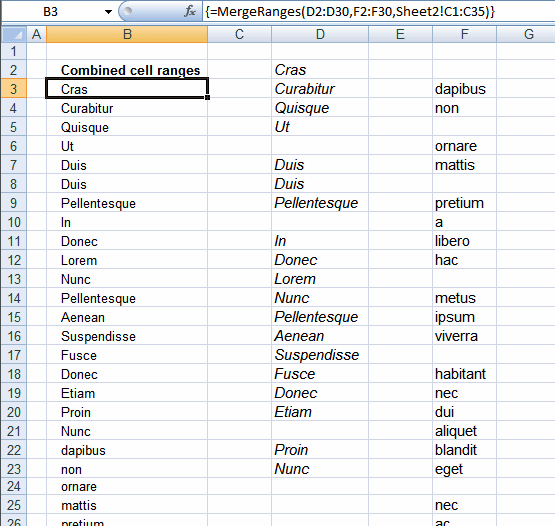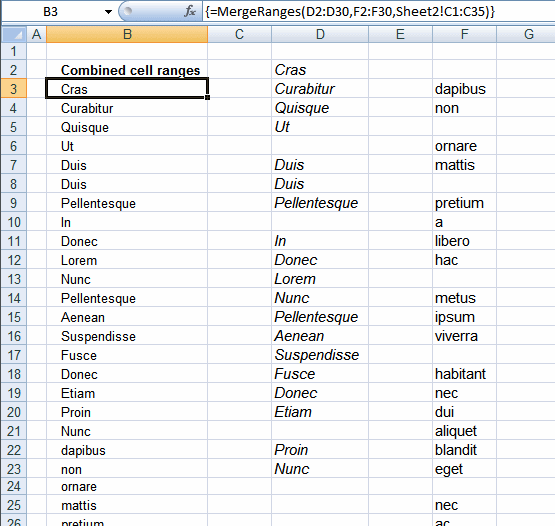 Userdefined function in cell range B3:B70, entered as an array formula:
=MergeRanges(D2:D30, F2:F30, Sheet2!C1:C35)
Sort text from multiple cell ranges combined (user defined function):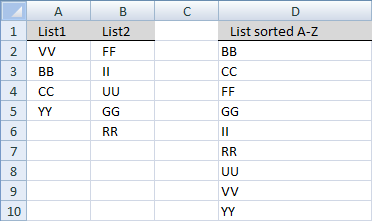 How to create an array formula
Select cell range B3:B70.
Copy (Ctrl + c) and paste (Ctrl + v) array formula into formula bar.
Press and hold Ctrl + Shift.
Press Enter once.
Release all keys.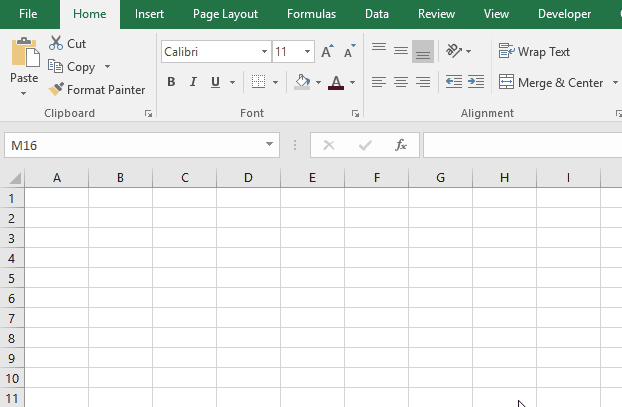 Array formulas allows you to do advanced calculations not possible with regular formulas.
VBA:

Function MergeRanges(ParamArray arguments() As Variant) As Variant()
Dim cell As Range, temp() As Variant, argument As Variant
Dim iRows As Integer, i As Integer
ReDim temp(0)

For Each argument In arguments
  For Each cell In argument
    If cell <> "" Then
      temp(UBound(temp)) = cell
      ReDim Preserve temp(UBound(temp) + 1)
    End If
  Next cell
Next argument

ReDim Preserve temp(UBound(temp) - 1)
iRows = Range(Application.Caller.Address).Rows.Count
For i = UBound(temp) To iRows
  ReDim Preserve temp(UBound(temp) + 1)
  temp(UBound(temp)) = ""
Next i

MergeRanges = Application.Transpose(temp)

End Function

How to use user defined function in excel
Press Alt-F11 to open visual basic editor
Click Module on the Insert menu
Copy and paste vba code
Exit visual basic editor
Download excel example file
Combine ranges.xls
(Excel 97-2003  Workbook *.xls)
Merge,sort and remove blanks from multiple cell ranges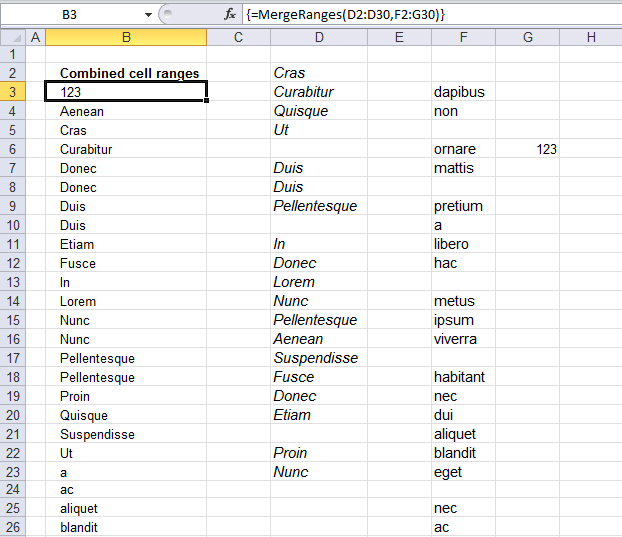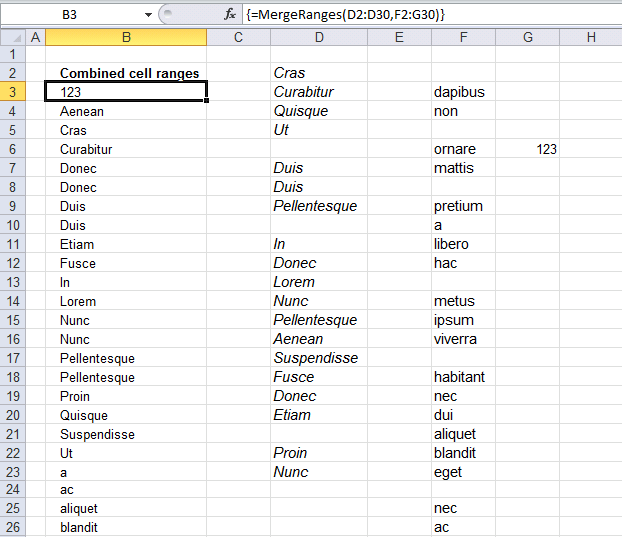 I used the "Sort array" function found here: Using a Visual Basic Macro to Sort Arrays in Microsoft Excel (microsoft) with some small modifications.
Download excel example file
Merge and sort cell values.xlsm
(Excel 97-2003  Workbook *.xls)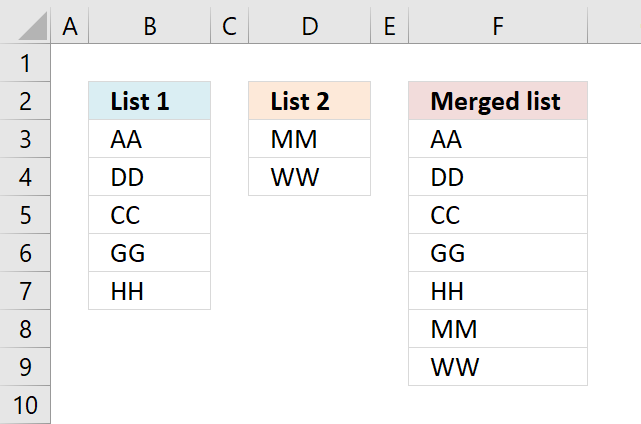 The picture above shows how to merge two columns into one list using a formula. If you are looking […]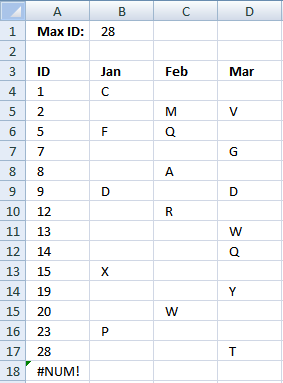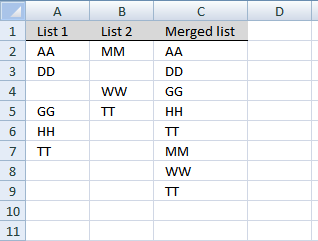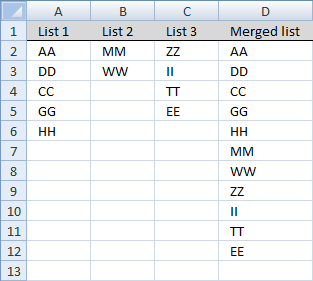 Question: I have multiple worksheets in a workbook. Each worksheets is project specific. Each worksheet contains almost identical format. The […]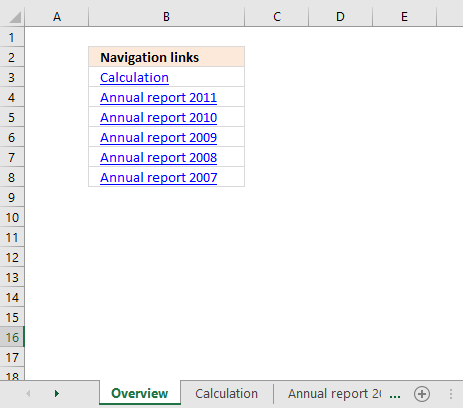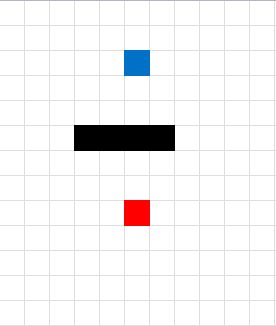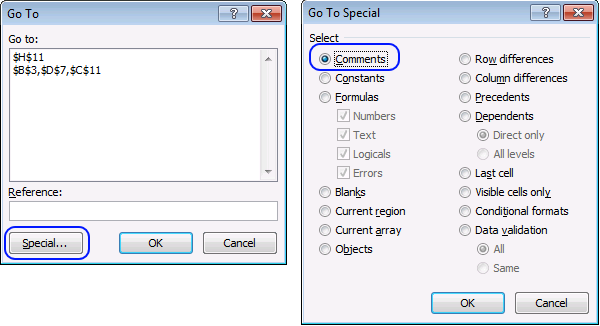 Did you know that you can select all comments in the current sheet? Press F5, click "Special..." button, select "Comments" […]