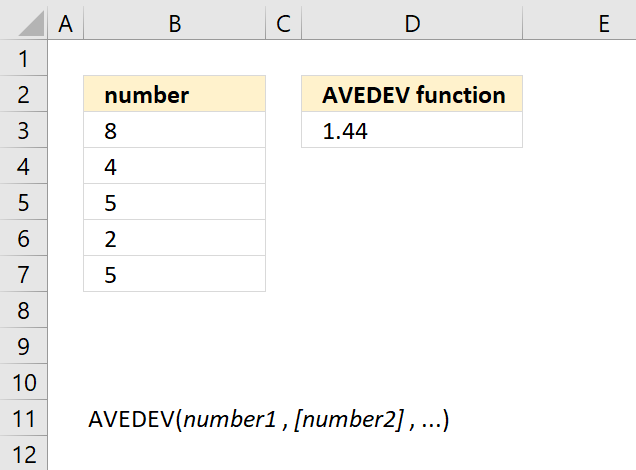 What is the AVEDEV function?
The AVEDEV function calculates the average of the absolute deviations of data points from their mean. AVEDEV is a measure of the variability in a data set. Variability is the extent to which a distribution is stretched or squeezed. The absolute deviation from the mean helps us understand how "spread out" the values in a data set are, it describes the variation in a data set.
What is an average?
An average is a statistical measure of the central or typical value in a data set that provides an estimation of expected results by calculating the sum of values divided by total occurrences. Common averages include the arithmetic mean, median, and mode, each of which summarize data in different ways.
What is an absolute deviation?
Absolute deviation is a statistical measure of spread or variability in a data set that sums the total distance each data point is from a measure of central tendency such as the mean or median without regard to direction plus or minus. It provides an easy way to quantify dispersion from a central value unlike variance.
What is mean?
The arithmetic mean, more simply referred to as the "average" or mean, is a fundamental concept in statistics that is computed by summing all values in a sample or population and dividing this total by the number of values, giving the balance point if the data were evenly distributed.
What is variability?
Variability refers to a characteristic of a data set describing the amount of dispersion or spread between data points that measures how far individual numbers tend to deviate from the mean, reflecting the breadth of the distribution; common ways to quantify variability include the variance, standard deviation, and interquartile range.
What is a distribution?
A distribution in statistics is the description of the relative number of times each different outcome will occur in a sample or population, modeled by a histogram or probability distribution that reflects central tendency, variability, skew, normality, and other aspects of the data spread.
What does it mean if a distribution is stretched or squeezed?
If a distribution appears stretched, it indicates higher variability with values more dispersed widely around the mean, while a squeezed distribution has lower variability with values clustered closer together near the mean due to a smaller standard deviation.
What is variation?
Variation, or variability, is the amount of diversity present in a sample or population revealed by the tendency of individual data points to differ from the measure of central tendency, with more variation meaning a wider dispersal and larger differences among values.
Formula in cell D3:
=AVEDEV(B3:B7)
AVEDEV function Syntax
AVEDEV(number1, [number2], ...)
AVEDEV function Arguments
| | |
| --- | --- |
| number1 | Required. A cell reference to number(s) or an array of numbers. |
| [number2] | Optional. Up to 254 additional number arguments. |
AVEDEV function example
How is the AVEDEV function calculated?
AVEDEV function not working
Functions in 'Statistical' category
The AVEDEV function function is one of many functions in the 'Statistical' category.
Excel function categories
Excel categories