Author:
Oscar Cronquist
Article last updated on August 06, 2017
I posted a userdefined function a year ago that automatically imported stock prices from yahoo finance. The workbook demonstrated in this blog posts imports stock prices and refreshes a stock chart. The problem is how excel calculates maximum and minimum axis values.
So I created a small vba macro that is assigned to the chart. Click the chart and the max and min values are instantly changed. I also created dynamic named ranges. You don´t need to adjust chart cell ranges manually anymore when stock data changes.
VBA macro

Sub RefreshChart()
With Worksheets("Sheet3").ChartObjects("Chart 1").Chart.Axes(xlValue)
    .MinimumScale = Worksheets("Sheet3").Range("E2")
    .MinimumScale = Worksheets("Sheet3").Range("E3")
End With
End Sub

User defined function
I made some small modifications to the user defined function.
Stock data are now sorted from smallest to largest by date
Prices are numbers

Function YahooStockQuotes(Fyear As String, Fmonth As String, Fday As String _
, Tyear As String, Tmonth As String, Tday As String, interval As String _
, ticker As String)

Dim url As String, http As Object
Dim csv As String, temp() As Variant, txt As String
Dim r As Integer, a As Single, b As String, c As Single, irows As Single
Dim temp1() As Variant
ReDim temp(6, 0)
ReDim temp1(6, 0)

url = "http://ichart.finance.yahoo.com/table.csv?s=" & ticker & _
"&d=" & Tmonth - 1 & "&e=" & Tday & "&f=" & Tyear _
& "&d=d&a=" & Fmonth - 1 & "&b=" & Fday & "&c=" & Fyear & "&g=" & interval & "&ignore=.csv"
On Error Resume Next
Set http = CreateObject("MSXML2.XMLHTTP")
http.Open "GET", url, False
http.Send
csv = http.responseText
r = 0
txt = ""
For a = 1 To Len(csv)
  b = Mid(csv, a, 1)
  If b = "," Then
    If UBound(temp, 2) = 0 Then
        temp(r, UBound(temp, 2)) = txt
    ElseIf r = 0 Then
        temp(r, UBound(temp, 2)) = txt
    Else
        temp(r, UBound(temp, 2)) = Val(txt)
    End If
    r = r + 1
    txt = ""
  ElseIf b = Chr(10) Then
    If UBound(temp, 2) = 0 Then
        temp(r, UBound(temp, 2)) = txt
    ElseIf r = 0 Then
        temp(r, UBound(temp, 2)) = txt
    Else
        temp(r, UBound(temp, 2)) = Val(txt)
    End If
    ReDim Preserve temp(UBound(temp, 1), UBound(temp, 2) + 1)
    txt = ""
    r = 0
  Else
    txt = txt & b
  End If
Next a

For c = LBound(temp, 1) To UBound(temp, 1)
    temp1(c, UBound(temp1, 2)) = temp(c, 0)
Next c
ReDim Preserve temp(UBound(temp, 1), UBound(temp, 2) - 1)
ReDim Preserve temp1(UBound(temp1, 1), UBound(temp1, 2) + 1)
For a = UBound(temp, 2) To LBound(temp, 2) Step -1
    For c = LBound(temp, 1) To UBound(temp, 1)
        temp1(c, UBound(temp1, 2)) = temp(c, a)
    Next c
    ReDim Preserve temp1(UBound(temp1, 1), UBound(temp1, 2) + 1)
Next a

irows = Range(Application.Caller.Address).Rows.Count
For a = UBound(temp1, 2) - 1 To irows
    For c = 0 To 6
        temp1(c, a) = ""
    Next c
    ReDim Preserve temp1(UBound(temp1, 1), UBound(temp1, 2) + 1)
Next a

YahooStockQuotes = Application.Transpose(temp1)

Set http = Nothing

End Function

Sheet 2 - Import stock prices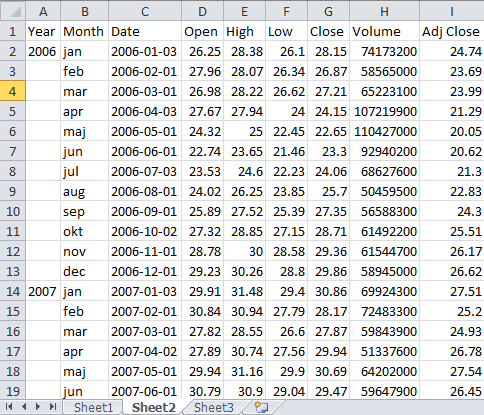 Array formula in cell range C1:I150
=YahooStockQuotes(YEAR(Sheet3!B2), MONTH(Sheet3!B2), DAY(Sheet3!B2), YEAR(Sheet3!B3), MONTH(Sheet3!B3), DAY(Sheet3!B3), "m", Sheet1!$C$1)
Download excel *.xlsm file
This stock chart in excel allows you to change the date range and the chart is instantly refreshed. Here is […]