I found a chart that I wanted to show you how to build.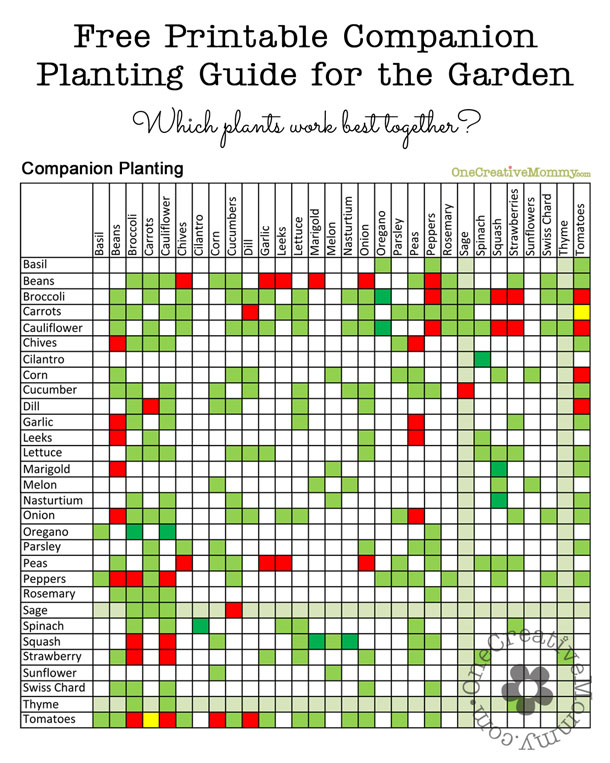 The printable planting guide is found here. This is what the color means:
Light green : plants grow well together
Red : don´t plant together
Dark green : the combination helps bug control
Yellow : carrots will have good flavor but stunted roots.
Grey : beneficial to garden in general
Instructions
Start typing the plants in cell A2 and below.


Copy the plant names and right click on cell B1. Click "Paste Special...".

Click "Transpose" and then click OK button.
Select and right click on cell range B1:AE1.
Click "Format Cells...".
Go to tab "Alignment".
Change "Orientation" to 90 degrees. Click OK.

Select column B:AE and change column width to 20px.

Type 1 for green, 2 for red, 3 for grey, 4 for dark green and 5 for yellow in cell range B2:AE31

Select cell range B2:AE31 and go to tab "Home" on the ribbon.
Click "Conditional formatting" button.
Click "New Rule.."
Select "Use a formula to determine which cells to format"
Type =B2=1

Click "Format..." button
Go to tab "Fill"
Pick a color
Click OK button twice
Repeat step 11 - 18 for 2, 3, 4 and 5 but the formulas become =B2=2, =B2=3 , B2=4 and B2=5 and the fill colors are different.

Hide the numbers in cell range B2:AE31. Select B2:AE31 and press CTRL + 1. Click "Custom" category. Type ;;; click OK.

Apply borders. Select A1:AE31. Go to "Home" tab on the ribbon. Click "Borders" and select "All Borders".

You could color each cell manually, but in my opinion building this chart is a lot easier using numbers in cells.
Chart posts that may inspire you
Download excel *.xlsx file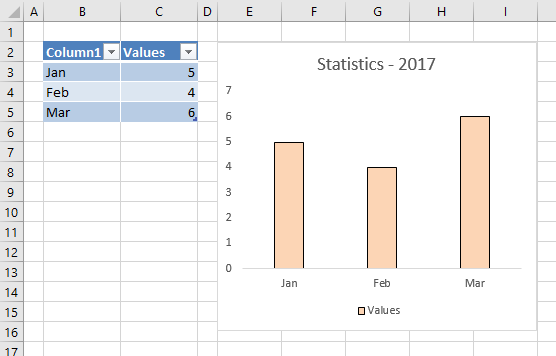 Question: How do I create a chart that dynamically adds the values, as i type them on the worksheet? Answer: […]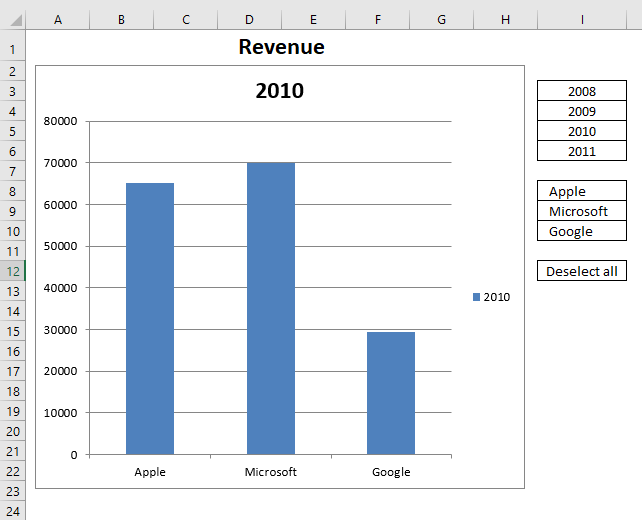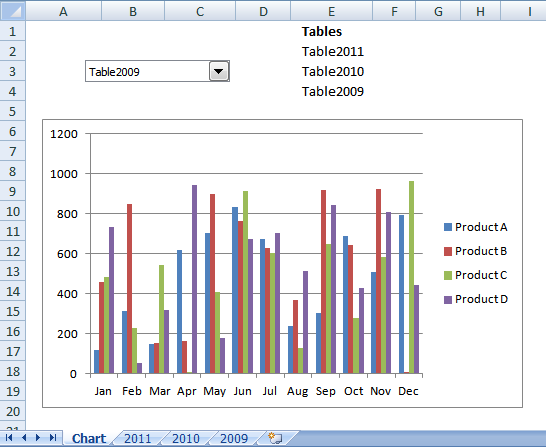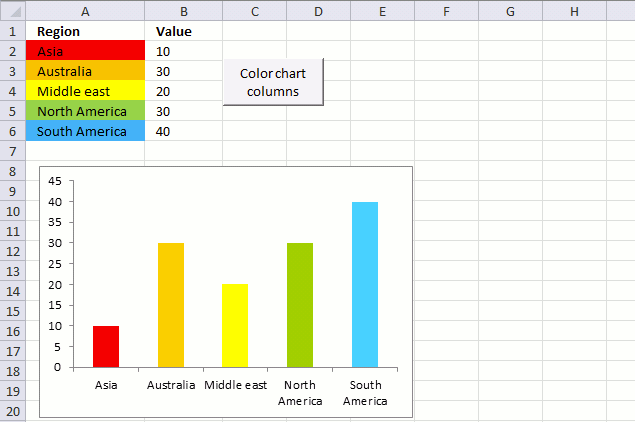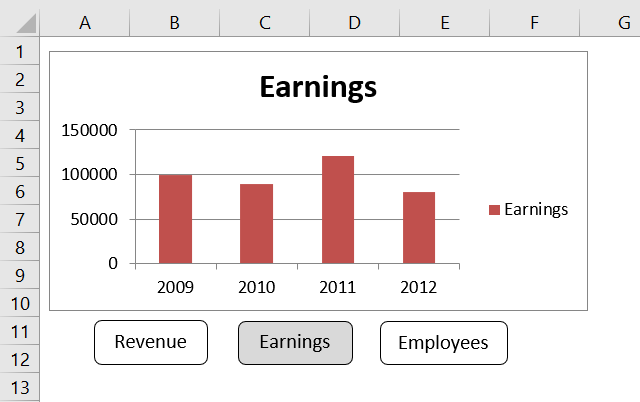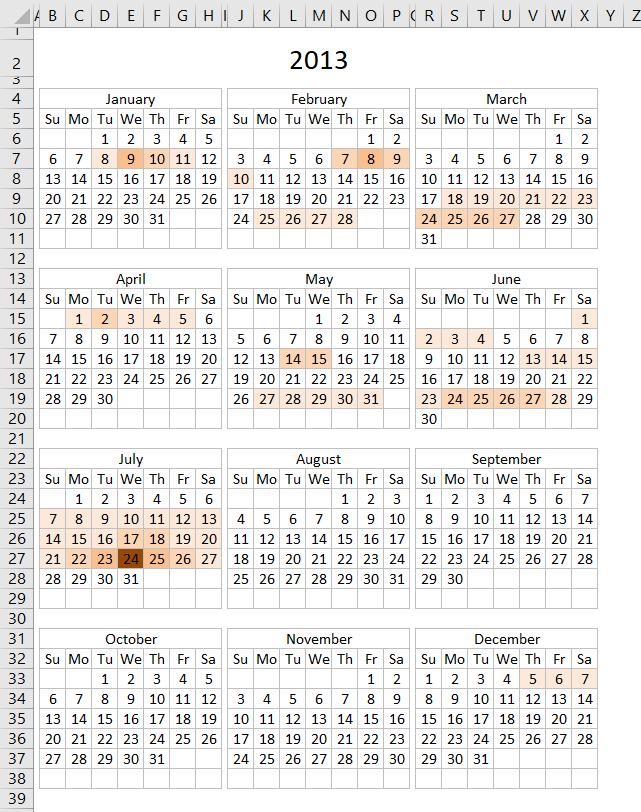 The calendar shown in the image above highlights events based on frequency. It is made only with a few conditional […]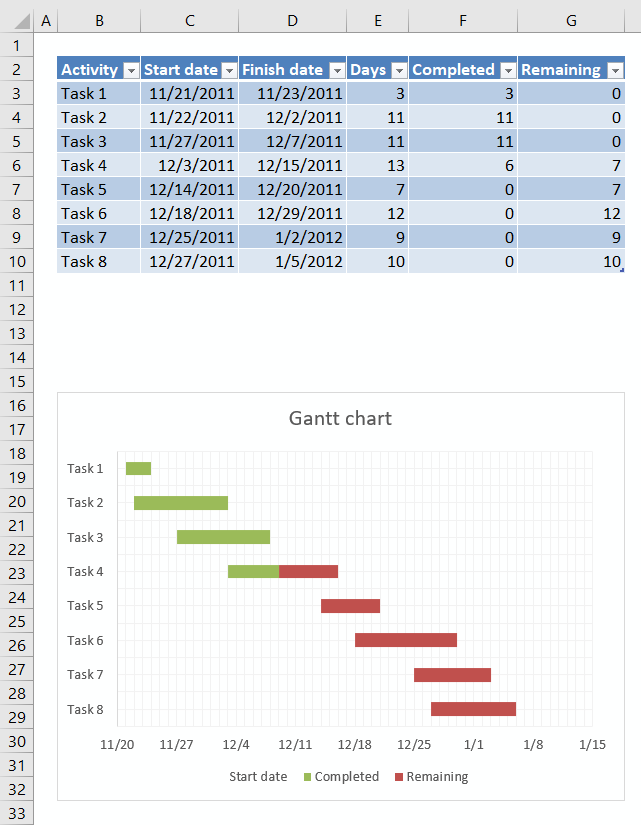 This Gantt chart uses a stacked bar chart to display the tasks and their corresponding date ranges. Completed days are […]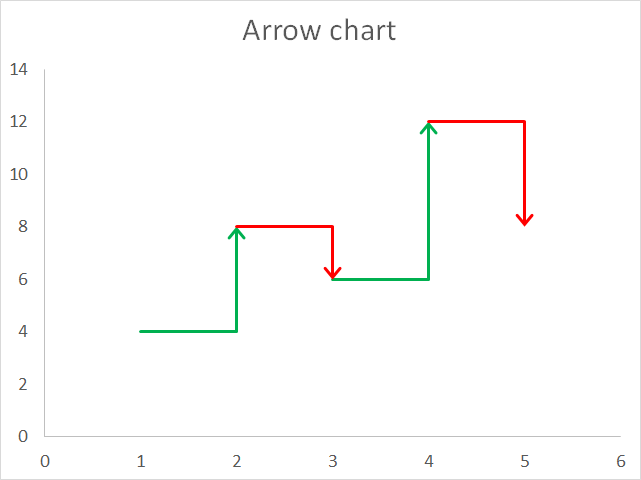 This chart is an arrow chart that has horizontal and vertical lines, positive arrows are green and negative arrows are […]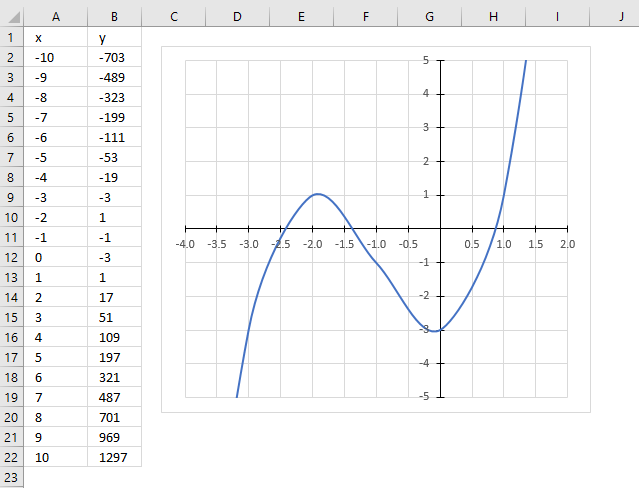 The picture above shows the following equation x^3+3*x^2-3 plotted on an x y scatter chart. Here are the instructions on how […]