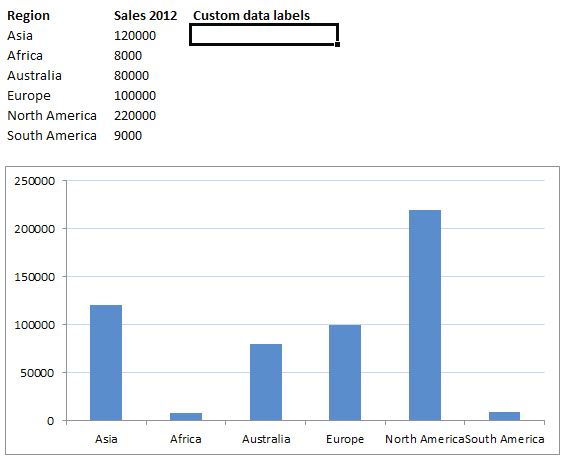 You can easily change data labels in a chart. Select a single data label and enter a reference to a cell in the formula bar. You can also edit data labels, one by one, on the chart.
With many data labels, the task becomes quickly boring and time-consuming. But wait, there is a third option using a duplicate series on a secondary axis.
The animated image above shows you dynamic custom data labels. Here is how you build them.
Note! Before you continue reading. If you own Excel 2013 or a later version you don't have to do the work-around presented below this yellow box.
Press with right mouse button on on any data series displayed in the chart.
Press with mouse on "Add Data Labels".
Press with mouse on Add Data Labels".

Double press with left mouse button on any data label to expand the "Format Data Series" pane.
Enable checkbox "Value from cells".

A small dialog box prompts for a cell range containing the values you want to use a s data labels.
Select the cell range and press with left mouse button on OK button.
The chart shows the values you selected as data labels.
Create a chart
Select a cell range

Go to "Insert" tab
Press with left mouse button on "Column" button
Select the first 2-D Column chart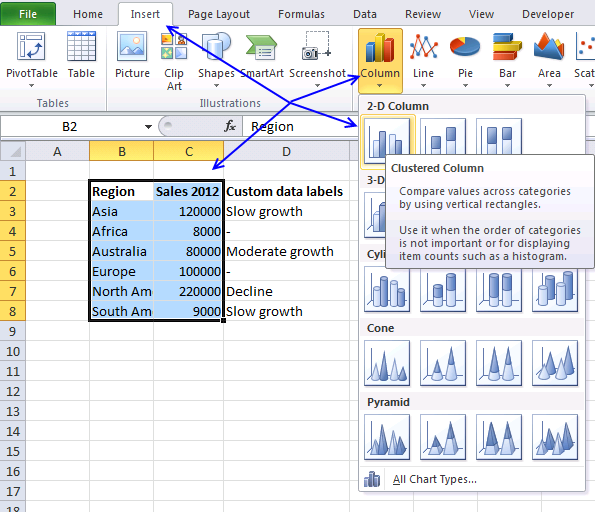 Add another series to the chart
Press with right mouse button on on chart

Press with left mouse button on Select data

Press with left mouse button on "Add" button
Select a series name, cell C2
Select series values, C3:C8

Press with left mouse button on Ok
Press with left mouse button on Ok
Plot series on the secondary axis
Press with left mouse button on the second series on the chart

Press with right mouse button on on a "second series" column

Press with left mouse button on "Format Data Series..."

Select "Secondary Axis"
Press with left mouse button on Close
The following article shows you another trick using the secondary axis in a way it wasn't intended to do:
Recommended articles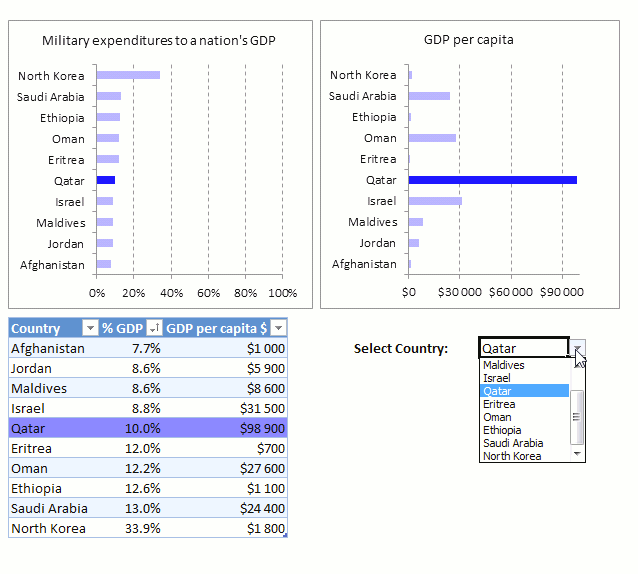 Highlight a bar in a chart
This article demonstrates how to highlight a bar in a chart, it allows you to quickly bring attention to a […]
Change the second series data source
Press with right mouse button on on the chart

Press with left mouse button on "Select Data"

Select the second series

Press with left mouse button on "Edit" button (Horizontal (Category) Axis Labels)
Select cell range D3:D8
Press with left mouse button on OK
Press with left mouse button on OK
Add data labels
Press with right mouse button on on a column

Press with left mouse button on "Add Data Labels"
Double press with left mouse button on a data label

Deselect Value
Select Category name
Press with left mouse button on Close

Get the Excel file

Custom-data-labels-in-a-chartv3.xlsx
Charts category
More than 1300 Excel formulas
Excel categories