The image above shows a chart populated with data from an Excel defined Table. The worksheet contains event code that changes the shown cart series based on which cell is selected. See the animated image below.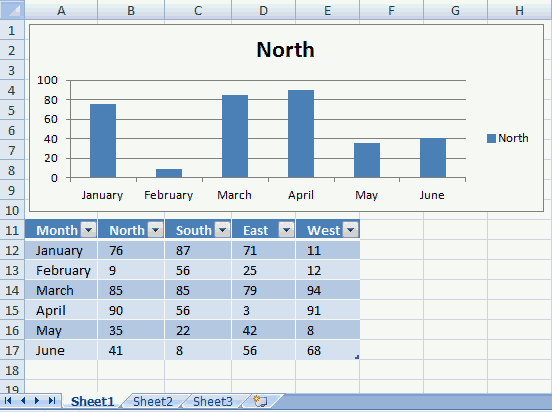 You can also select multiple cells in the table by press and hold with the left mouse button and then drag with the mouse to select multiple cells.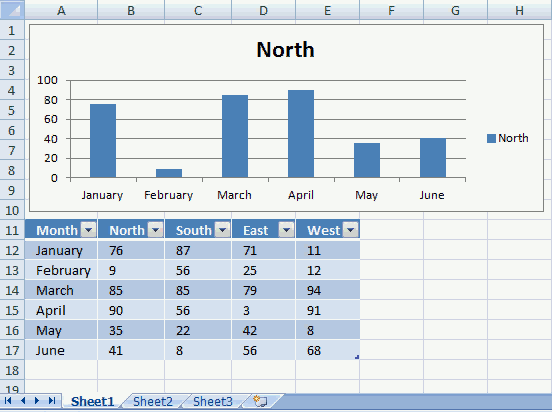 If you want to select cells that are not adjacent you can press and  CTRL key and then press with left mouse button on the cells you want to select. The corresponding chart series shows up in the chart automatically, this is made possible with event code.
VBA code


'Event code
Private Sub Worksheet_SelectionChange(ByVal Target As Range)

'Dimension variables and declare data types
Dim ACell As Range
Dim ActiveCellInTable As Boolean
Dim c As Single
Dim str As String

'Iterate every cell in selection
For Each ACell In Target

    'Enable error handling
    On Error Resume Next

    'If selected cell is in a table and the table name is Table1, save TRUE in ActiveCellInTable (boolean)
    ActiveCellInTable = (ACell.ListObject.Name = "Table1")

    'Resume normal error handling (stop if an error occurs)
    On Error GoTo 0
    
    If ActiveCellInTable = True Then

        'Save cell reference (First column in table) if str is empty
        If str = "" Then str = "Table1[[#ALL]," & ACell.ListObject.Range.Cells(1, 1).Value & "]"

        'Calculate selected cell's column number in table
        c = ACell.Column - ACell.ListObject.Range.Cells(1, 1).Column + 1

        'Check if column number is above 1
        If c > 1 Then

            'Add cell reference
            str = str & "," & "Table1[[#ALL]," & ACell.ListObject.Range.Cells(1, c).Value & "]"

            'Change "Chart 1" data source
            ChartObjects("Chart 1").Chart.SetSourceData Source:=Range(str)
        End If
    End If
Next ACell

End Sub

Where to put the code?
Press Alt + F11 to open the Visual Basic Editor.
Press with right mouse button on on sheet name Sheet1.
Press with left mouse button on on "View Code".
Copy/Paste VBA code to sheet module.
Exit Visual Basic Editor and return to Excel.
Get the Excel file

Select-a-cell-in-a-table-to-update-a-chartv2.xlsm
Built-in Charts
Combo Charts
Combined stacked area and a clustered column chart
Combined chart – Column and Line on secondary axis
Combined Column and Line chart
Chart elements
Chart basics
How to create a dynamic chart
Rearrange data source in order to create a dynamic chart
Use slicers to quickly filter chart data
Four ways to resize a chart
How to align chart with cell grid
Group chart categories
How to add lines between stacked columns/bars [Excel charts]
Custom charts
How to build an arrow chart
How to graph a Normal Distribution
How to graph an equation
Build a comparison table/chart
Heat map yearly calendar
Advanced Gantt Chart Template
Sparklines
Win/Loss
Column
Line
Highlight chart elements
Highlight a column in a stacked column chart
Highlight a group of chart bars
Highlight a data series in a line chart
Highlight a column in a stacked column chart
Highlight a bar in a chart
Interactive charts
How to filter chart data
Hover with mouse cursor to change stock in a candlestick chart
How to build an interactive map in Excel
Highlight group of values in an x y scatter chart programmatically
Use drop down lists and named ranges to filter chart values
How to use mouse hover on a worksheet [VBA]
How to create an interactive Excel chart [VBA]
Change chart series by clicking on data [VBA]
Change chart data range using a Drop Down List [VBA]
How to create a dynamic chart
Animate
Line chart
Excel Bar Chart
Excel chart
Advanced charts
Custom data labels in a chart
Improve your X Y Scatter Chart with custom data labels
Label line chart series
How to position month and year between chart tick marks
How to add horizontal line to chart
Add pictures to a chart axis
How to color chart bars based on their values
Excel chart problem: Hard to read series values
Build a stock chart with two series
Change chart axis range programmatically
Change column/bar color in charts
Hide specific columns programmatically
Dynamic stock chart
How to replace columns with pictures in a column chart
Color chart columns based on cell color
Heat map using pictures
Dynamic Gantt charts
Stock charts
Build a stock chart with two series
Dynamic stock chart
Change chart axis range programmatically
How to create a stock chart
Excel categories