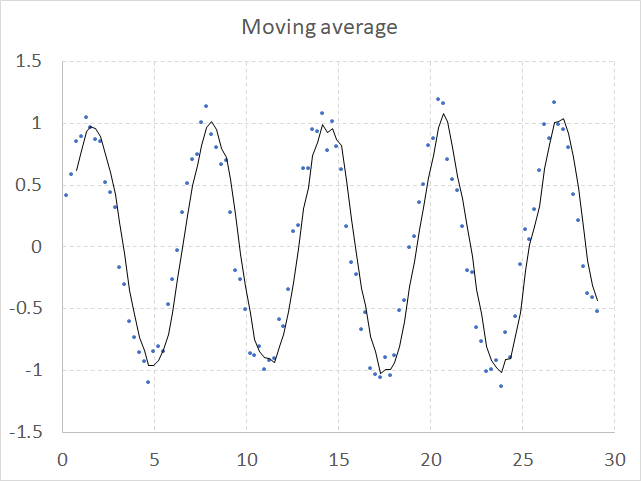 A moving average smooths out short-term variations to show a long-term trend or cycle. The chart above shows random values combined with a sinus curve, the moving average is calculated, in this case, based on the last three values.
How to build
Select the chart.
Press with mouse on the "plus" sign next to the chart.

Press with left mouse button on "Trendline"
The settings pane appears.
Press with mouse on radio button "Moving Average".

Change the period value, the chart will update instantly with the new value.
Go to tab "Fill & Line" to customize the moving average to your preference.
How to add a second moving average
Simply press with right mouse button on on the data series.
Press with mouse on "Add Trendline...".

A second moving average appears.

Select it and then go to tab "Fill & Line" to customize it.
Built-in Charts
Combo Charts
Combined stacked area and a clustered column chart
Combined chart – Column and Line on secondary axis
Combined Column and Line chart
Chart elements
Chart basics
How to create a dynamic chart
Rearrange data source in order to create a dynamic chart
Use slicers to quickly filter chart data
Four ways to resize a chart
How to align chart with cell grid
Group chart categories
How to add lines between stacked columns/bars [Excel charts]
Custom charts
How to build an arrow chart
How to graph a Normal Distribution
How to graph an equation
Build a comparison table/chart
Heat map yearly calendar
Advanced Gantt Chart Template
Sparklines
Win/Loss
Column
Line
Highlight chart elements
Highlight a column in a stacked column chart
Highlight a group of chart bars
Highlight a data series in a line chart
Highlight a column in a stacked column chart
Highlight a bar in a chart
Interactive charts
How to filter chart data
Hover with mouse cursor to change stock in a candlestick chart
How to build an interactive map in Excel
Highlight group of values in an x y scatter chart programmatically
Use drop down lists and named ranges to filter chart values
How to use mouse hover on a worksheet [VBA]
How to create an interactive Excel chart [VBA]
Change chart series by clicking on data [VBA]
Change chart data range using a Drop Down List [VBA]
How to create a dynamic chart
Animate
Line chart
Excel Bar Chart
Excel chart
Advanced charts
Custom data labels in a chart
Improve your X Y Scatter Chart with custom data labels
Label line chart series
How to position month and year between chart tick marks
How to add horizontal line to chart
Add pictures to a chart axis
How to color chart bars based on their values
Excel chart problem: Hard to read series values
Build a stock chart with two series
Change chart axis range programmatically
Change column/bar color in charts
Hide specific columns programmatically
Dynamic stock chart
How to replace columns with pictures in a column chart
Color chart columns based on cell color
Heat map using pictures
Dynamic Gantt charts
Stock charts
Build a stock chart with two series
Dynamic stock chart
Change chart axis range programmatically
How to create a stock chart
Excel categories