This post describes how to add a map (background picture) to a chart. The following animated picture shows a scatter chart with a background picture. A drop down list let´s you select a city and the chart displays the location.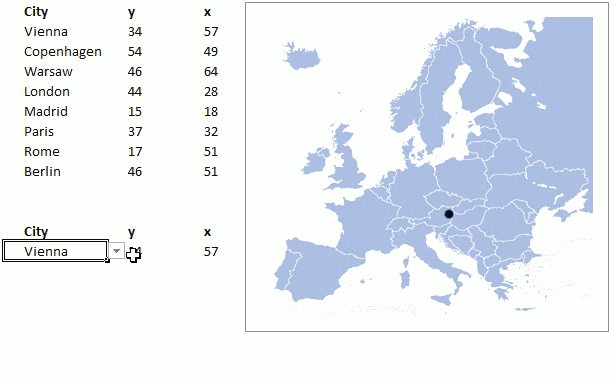 Step 1 - Insert a scatter chart
Go to "Insert" tab on the ribbon

Click "Scatter" button
Click "Scatter with only markers" button
Step 2 - Create a drop down list
Select cell B14

Go to tab "Data" on the ribbon
Click "Data Validation" button
Go to "Settings" tab
Select "List"
Select source range: B3:B10
Click OK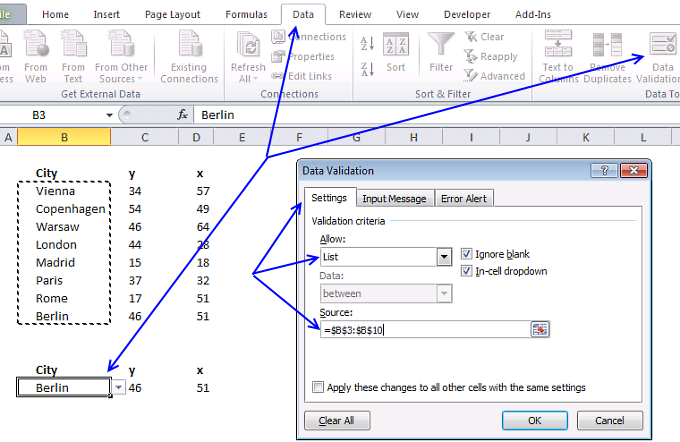 Formula in cell C14:
=INDEX(C3:C10,MATCH($B$14,$B$3:$B$10,0))
Formula in cell D14:
=INDEX(D3:D10,MATCH($B$14,$B$3:$B$10,0))
Step 3 - Select chart data source
Right click on chart

Click "Select Data"
Click Ok.
Step 4 - Insert a background picture
Right click on chart

Click "Format Plot Area..."
Click "Fill"
Select "Picture or texture fill"
Click "File..." button
Select a picture
Click "Insert"
If you like, change "Transparency" value
Click "Close"
Step 5 - Chart settings
Right click on data series
Click "Marker Options"
Select "Built-in"
Select a type
Click "Marker Fill"
Select "Solid fill"
Pick a color
Click Close
Final notes
First I thought of using longitude and latitude coordinates but I gave that up really quickly. The map is downloaded from Wikimedia Commons.
Tip! You can add a data label and use the series name to show the city name on the map.
Download excel *.xlsx file
Maps in a xy scatter chart.xlsx
Functions in this post
INDEX(array,row_num,[column_num])
Returns a value or reference of the cell at the intersection of a particular row and column, in a given range
MATCH(lookup_value;lookup_array; [match_type])
Returns the relative position of an item in an array that matches a specified value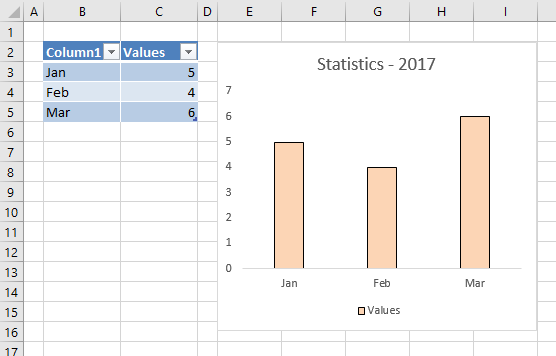 Question: How do I create a chart that dynamically adds the values, as i type them on the worksheet? Answer: […]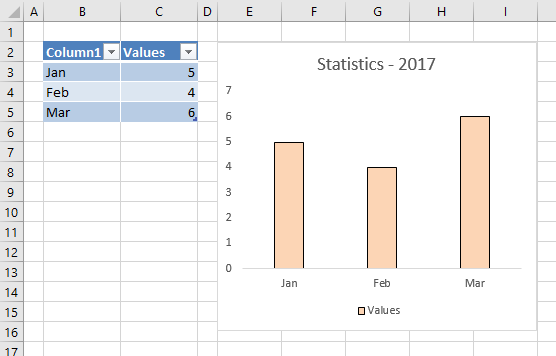 Question: How do I create a chart that dynamically adds the values, as i type them on the worksheet? Answer: […]
I made a heat map calendar a few months ago and it inspired me to do this post. The heat […]
Excel 2016 owners with an office 365 subscription can now easily build beautiful map charts. Excel uses maps from Bing […]
This picture below shows you a column chart with pictures (flags) below each column. Watch this video to learn how […]