Here is how I did it:
Step 1 - Create a drop down list
Select cell J2
Go to tab "Data"
Click "Data Validation" button
Allow: List
Source: B19:F19
Step 2 - Copy table
Select first table (table1: A19:F31)

Copy (Ctrl + c)
Paste to H19:M31
Clear values
Step 3 - Formula in duplicated table
Select the first empty value (cell I20) in the second table (table2)

Click in formula bar
Use the following formula:

=IF($J$2=Table2[[#Headers],[A]],Table1[@A],"")

Press Enter
Select cell I20
Select cell range J20:M20
Double click black dot. The formulas are copied to the remaining cells below in the table.
Step 4 - Insert a line chart
Select table1
Go to tab "Insert"
Click "Line"
Click "Line chart"
Step 5 - Color lines
Select a data serie
Right click on the selected data serie
Click "Format Data Series..."
Select "Line Color"
Select "Solid line"
Pick a light gray color
Click Close
Repeat line 1 to 7 with remaining data series.
Step 6 - Add the duplicated table to the second axis
Right click on chart
Click "Add" button
Series name: I19
Series values: I20:I31
Click "Edit" button
Select cell range H20:H31
Click OK
Click OK
Select item A in the drop down list
Right click on data series A on the chart
Click "Format Data series..."
Select secondary axis
Click OK
Repeat above steps 1 - 15 with table column B, C, D and E.
Remove secondary y axis, see picture below.
Step 7 - Remove series in first axis from legend
Remove A to E colored gray from the legend. (Click on each character and press Delete)
Delete major gridlines
Download excel *.xlsx file
Highlight series in a line chart.xlsx
Functions in this post
IF(logical_test, [value_if_true], [value_if_false])
Checks whether a condition is met, and returns one value if TRUE, and another value if FALSE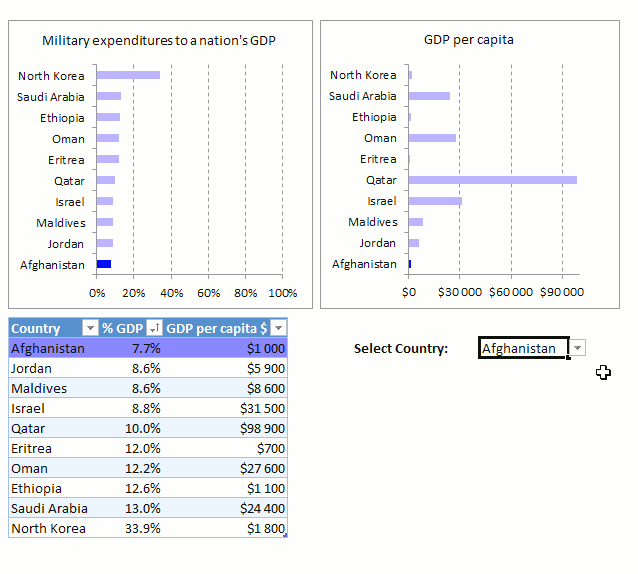 This post demonstrates how to quickly bring attention to a single bar in a chart. Highlighted bars in two or […]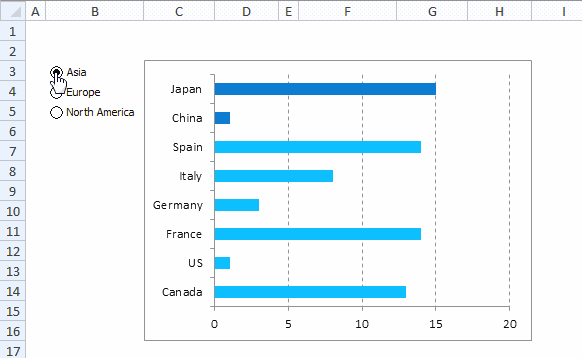 Highlight a group of chart bars
Excel has some incredible tools for highlighting cells, rows, dates, comparing data and even series in line charts. A technique using the secondary axis allows you […]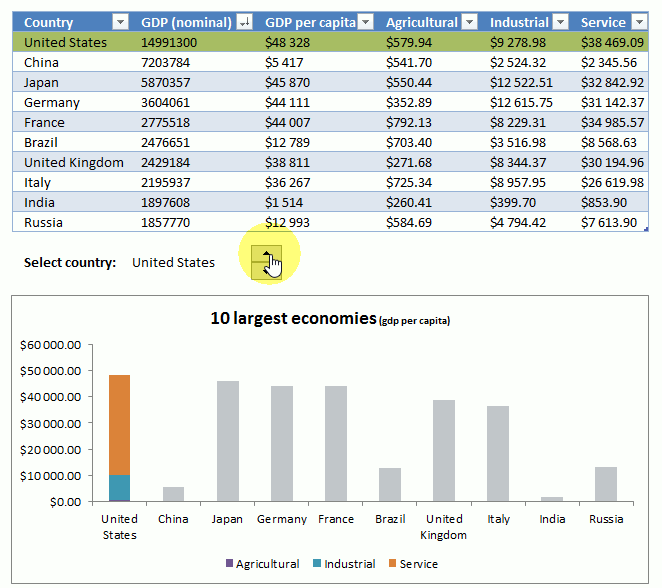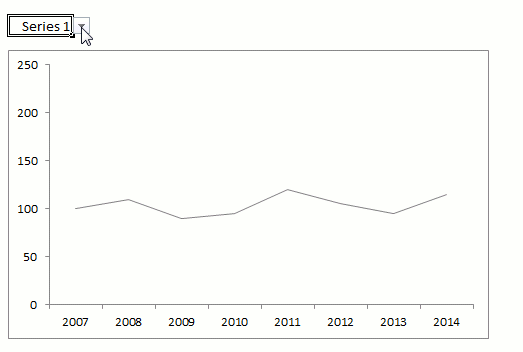 Today I will show you how to build a basic animated line chart. The chart has a small trailing shadow effect. […]
The line chart lets you chart data points as a line, this chart type is useful if you have many […]
The chart above contains no legend instead data labels are used to show what each line represent. How to build […]