Today I would like to share a macro that compares the content in two different folders and their sub folders. It compares the file names but not the file sizes.
In this example the picture shows the content in these two folders: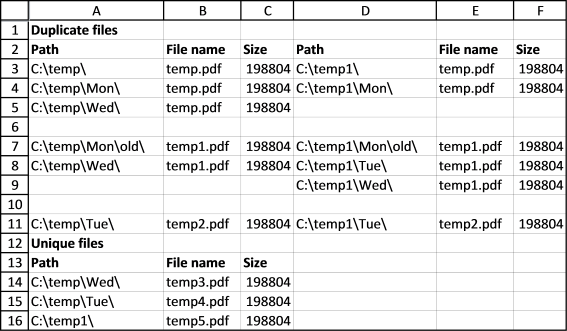 The file information for duplicate files in the first folder are in columns A to C, the second folder are in columns D to F.
As you can see, duplicate file names are together. Duplicate file names in the same folder tree and the corresponding folder tree are grouped together.
Unique files from both folders are in columns A to C, below the duplicate file list.
If you have folders with a lot of files and sub folders the macro may take a while to finish.
What happens when you start the macro?
Select the first folder
Select the second folder
A new sheet is inserted
The file data is saved to the new sheet
Macro ends
Where do I save the code?
Copy the vba code below
Go to the VB Editor (Alt + F11)
Click "Insert" on the menu
Click "Module"
Paste code to code window
Return to excel
VBA Code
Sub CompareContentsofTwoFolders()
Dim pth1 As String, pth2 As String
Dim r1 As Single, r2 As Single
Dim arrd() As Variant
Dim arru() As Variant
ReDim arrd(0 To 5, 0)
ReDim arru(0 To 2, 0)

With Application.FileDialog(msoFileDialogFolderPicker)
    .Show
    pth1 = .SelectedItems(1) & "\"
End With

With Application.FileDialog(msoFileDialogFolderPicker)
    .Show
    pth2 = .SelectedItems(1) & "\"
End With

Sheets.Add
Set x = ActiveSheet

Application.ScreenUpdating = False
x.Range("A1") = "Duplicate files"
x.Range("A2") = "Path"
x.Range("B2") = "File name"
x.Range("C2") = "Size"
x.Range("D2") = "Path"
x.Range("E2") = "File name"
x.Range("F2") = "Size"
x.Range("A:F").Font.Bold = False
x.Range("A1:F2").Font.Bold = True

Recursive pth1

Lrow = ActiveSheet.Range("A" & Rows.Count).End(xlUp).Row
x.Range("A2:C" & Lrow).Sort Key1:=x.Range("B1"), Header:=xlYes

arr1 = x.Range("A3:C" & Lrow).Value

x.Range("A3:C" & Lrow).Clear

Recursive pth2

Lrow = ActiveSheet.Range("A" & Rows.Count).End(xlUp).Row
x.Range("A2:C" & Lrow).Sort Key1:=x.Range("B1"), Header:=xlYes

arr2 = x.Range("A3:C" & Lrow).Value

x.Range("A3:C" & Lrow).Clear

For r1 = LBound(arr1, 1) To UBound(arr1, 1)
    chk = False
    
        If r1 > 1 Then
            
            If arr1(r1, 2) = arr1(r1 - 1, 2) Then
                
                For r3 = UBound(arrd, 2) To LBound(arrd, 2) Step -1
                    If arrd(2, r3) <> "" And arrd(1, r3) <> arr1(r1, 2) Then Exit For
                    If arrd(1, r3) = arr1(r1, 2) Then
                        If r3 = UBound(arrd, 2) Then ReDim Preserve arrd(UBound(arrd, 1), UBound(arrd, 2) + 1)
                        arrd(0, r3 + 1) = arr1(r1, 1)
                        arrd(1, r3 + 1) = arr1(r1, 2)
                        arrd(2, r3 + 1) = arr1(r1, 3)
                        ReDim Preserve arrd(UBound(arrd, 1), UBound(arrd, 2) + 1)
                        Exit For
                    End If
                Next r3
                
                For r3 = UBound(arru, 2) To LBound(arru, 2) Step -1
                    If arru(2, r3) <> "" And arru(1, r3) <> arr1(r1, 2) Then Exit For
                    If arru(1, r3) = arr1(r1, 2) Then
                        If r3 = UBound(arru, 2) Then ReDim Preserve arru(UBound(arru, 1), UBound(arru, 2) + 1)
                        arru(0, r3 + 1) = arr1(r1, 1)
                        arru(1, r3 + 1) = arr1(r1, 2)
                        arru(2, r3 + 1) = arr1(r1, 3)
                        ReDim Preserve arru(UBound(arru, 1), UBound(arru, 2) + 1)
                        Exit For
                    End If
                Next r3
                GoTo jmp
            End If
        End If
    
    For r2 = LBound(arr2, 1) To UBound(arr2, 1)
                
        If arr2(r2, 2) = arr1(r1, 2) Then
        
            If chk = False Then
                arrd(0, UBound(arrd, 2)) = arr1(r1, 1)
                arrd(1, UBound(arrd, 2)) = arr1(r1, 2)
                arrd(2, UBound(arrd, 2)) = arr1(r1, 3)
            
            Else
                arrd(0, UBound(arrd, 2)) = ""
                arrd(1, UBound(arrd, 2)) = ""
                arrd(2, UBound(arrd, 2)) = ""
            End If
            
            arrd(3, UBound(arrd, 2)) = arr2(r2, 1)
            arrd(4, UBound(arrd, 2)) = arr2(r2, 2)
            arrd(5, UBound(arrd, 2)) = arr2(r2, 3)
            
            arr2(r2, 1) = ""
            
            ReDim Preserve arrd(UBound(arrd, 1), UBound(arrd, 2) + 1)
            chk = True
            
        End If
        
    Next r2
    
    If chk = False Then
            arru(0, UBound(arru, 2)) = arr1(r1, 1)
            arru(1, UBound(arru, 2)) = arr1(r1, 2)
            arru(2, UBound(arru, 2)) = arr1(r1, 3)
            ReDim Preserve arru(UBound(arru, 1), UBound(arru, 2) + 1)
    End If
jmp:
Next r1

For r2 = LBound(arr2, 1) To UBound(arr2, 1)
    If arr2(r2, 1) <> "" Then
        arru(0, UBound(arru, 2)) = arr2(r2, 1)
        arru(1, UBound(arru, 2)) = arr2(r2, 2)
        arru(2, UBound(arru, 2)) = arr2(r2, 3)
        ReDim Preserve arru(UBound(arru, 1), UBound(arru, 2) + 1)
    End If
Next r2

x.Range("A3").Resize(UBound(arrd, 2) + 1, UBound(arrd, 1) + 1) = Application.Transpose(arrd)

x.Range("A" & UBound(arrd, 2) + 3) = "Unique files"
x.Range("A" & UBound(arrd, 2) + 4) = "Path"
x.Range("B" & UBound(arrd, 2) + 4) = "File name"
x.Range("C" & UBound(arrd, 2) + 4) = "Size"
x.Range("A" & UBound(arrd, 2) + 3 & ":C" & UBound(arrd, 2) + 4).Font.Bold = True
x.Range("A" & UBound(arrd, 2) + 5).Resize(UBound(arru, 2) + 1, UBound(arru, 1) + 1) = Application.Transpose(arru)

x.Columns("A:F").AutoFit

Application.ScreenUpdating = True
End Sub

Sub Recursive(FolderPath As String)
Dim Value As String, Folders() As String
Dim Folder As Variant, a As Long
ReDim Folders(0)
If Right(FolderPath, 2) = "\\" Then Exit Sub
Value = Dir(FolderPath, &H1F)
Do Until Value = ""
    If Value = "." Or Value = ".." Then
    Else
        If GetAttr(FolderPath & Value) = 16 Or GetAttr(FolderPath & Value) = 48 Then
            Folders(UBound(Folders)) = Value
            ReDim Preserve Folders(UBound(Folders) + 1)
        Else
            Lrow = ActiveSheet.Range("A" & Rows.Count).End(xlUp).Row + 1
            ActiveSheet.Range("A" & Lrow) = FolderPath
            ActiveSheet.Range("B" & Lrow) = Value
            ActiveSheet.Range("C" & Lrow) = FileLen(FolderPath & Value)
        End If
    End If
    Value = Dir
Loop
For Each Folder In Folders
    Recursive FolderPath & Folder & "\"
Next Folder
End Sub



Download Excel file

Compare-contents-of-two-different-folders-and-find-duplicate-files.xlsm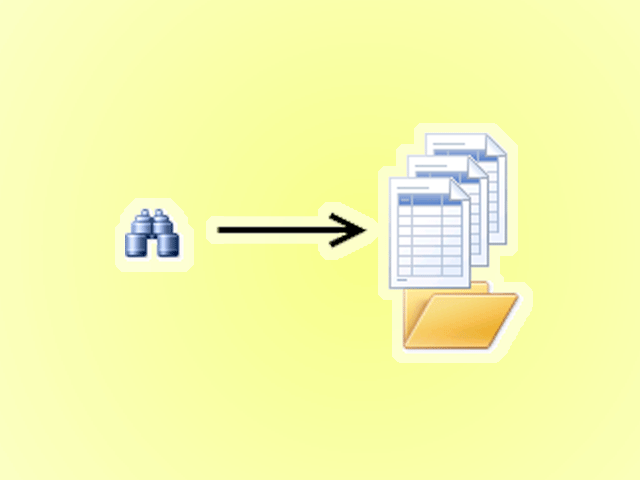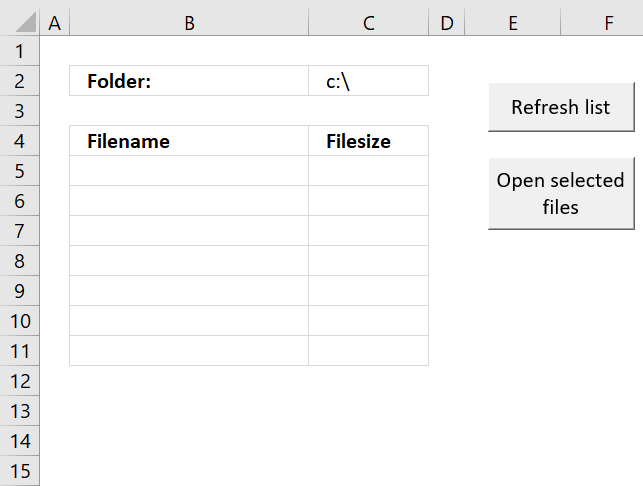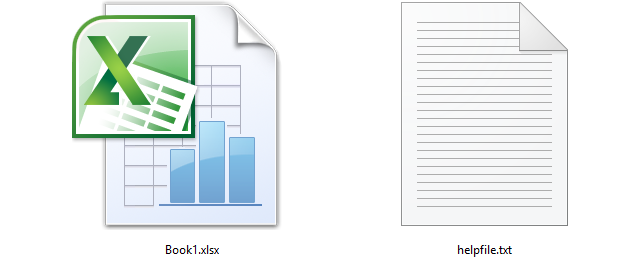 What's on this page Copy a file Copy and rename a file Rename a file List files in a folder […]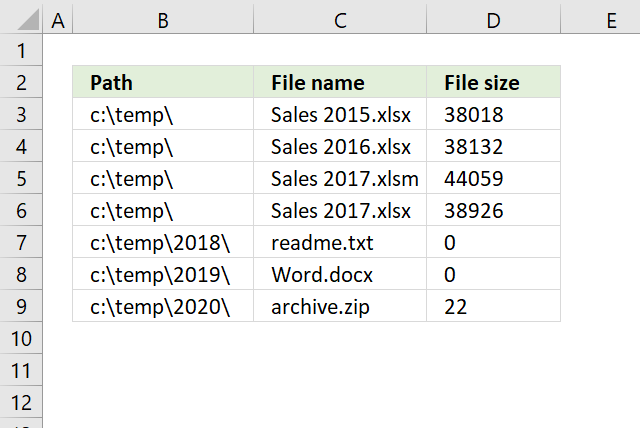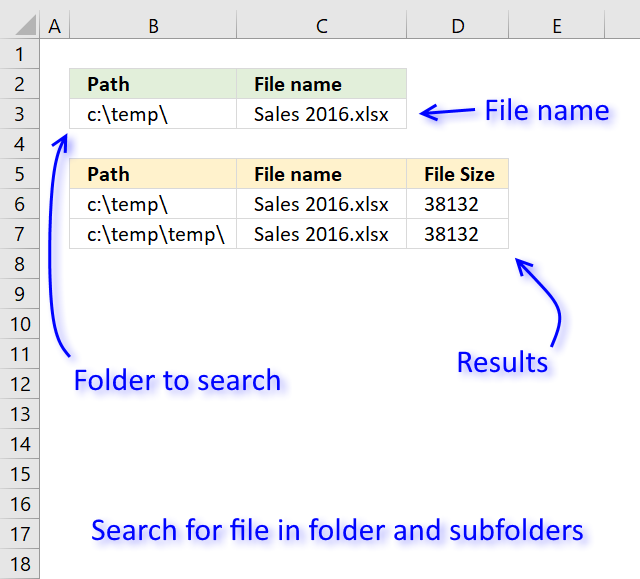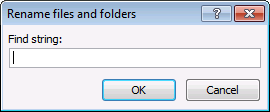 Macros are great for doing repetitive tasks. Two years ago I wrote a post about transferring data to worksheets. It is […]