The following animated gif shows you a sheet where you can select column (Region) or a row (Month) and the chart updates correspondingly. I am only using named ranges and a table to create this effect.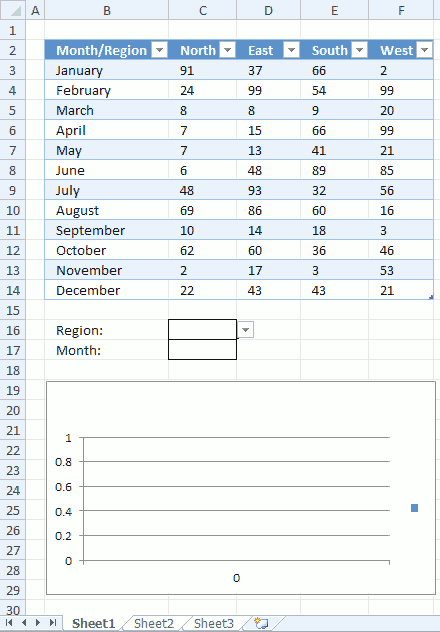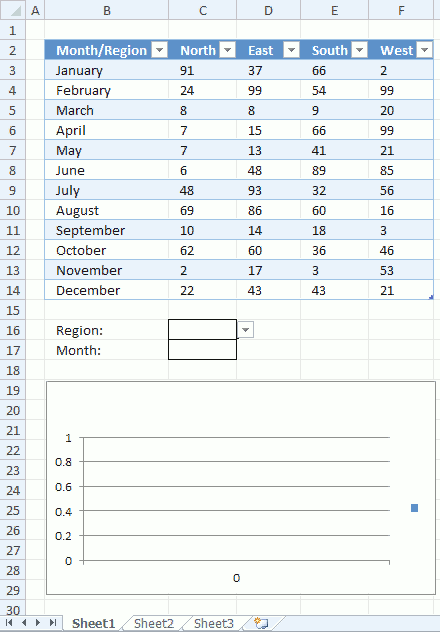 The beauty with this dynamic chart is that you can easily add more rows or columns to the table!
Example,
Select cell F14
Press Tab
A new row is created
Add values
The table automatically expands and the drop down lists and chart are instantly refreshed with the new row or column values.
How I made this worksheet
I created five named ranges.
Named ranges
Month - Formula:
=INDEX(Table1[Month/Region],0,0)
Region - Formula:
=INDEX(Table1[#Headers],0,0)
Chart - Formula:
=IF((Sheet1!$C$16="")*(Sheet1!$C$17=""), 0, IF(Sheet1!$C$16="", OFFSET(Table1, MATCH(Sheet1!$C$17, Table1[Month/Region], 0)-1, 1, 1, COUNTA(Table1[#Headers])-1), INDEX(Table1, 0, MATCH(Sheet1!$C$16, Table1[#Headers], 0))))
ChartCat - Formula:
=IF((Sheet1!$C$16="")*(Sheet1!$C$17=""), 0, IF(Sheet1!$C$16<>"", INDEX(Table1[Month/Region], 0, 0), OFFSET(Table1[#Headers], 0, 1, , COUNTA(Table1[#Headers])-1)))
Series - Formula:
=IF((Sheet1!$C$16="")*(Sheet1!$C$17=""), "", IF(Sheet1!$C$16="", INDEX(Table1[[#All], [Month/Region]], MATCH(Sheet1!$C$17, Table1[[#All], [Month/Region]], 0)), INDEX(Table1[#Headers], 1, MATCH(Sheet1!$C$16, Table1[#Headers], 0))))
Create two drop down lists
Select cell C16
Go to tab "Data"
Click "Data Validation" button
Type =Region in Source:
Click OK
Select cell C17
Go to tab "Data"
Click "Data Validation" button
Select List
Type =Month in source
Click OK
Setting up the chart
Create a bar chart
Right click on chart
Click "Select Data..."
Type =Sheet1!Series in Series name:
Click Ok
Click ok
Click ok
 Download excel *.xlsx file
The calendar shown in the image above highlights events based on frequency. It is made only with a few conditional […]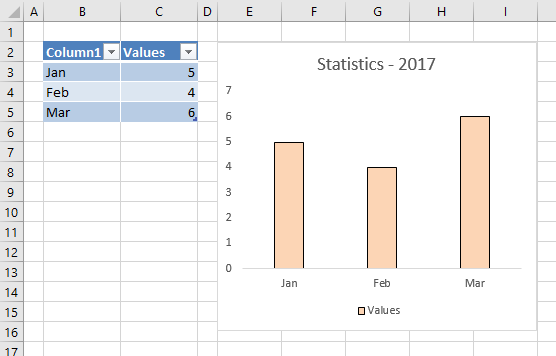 Question: How do I create a chart that dynamically adds the values, as i type them on the worksheet? Answer: […]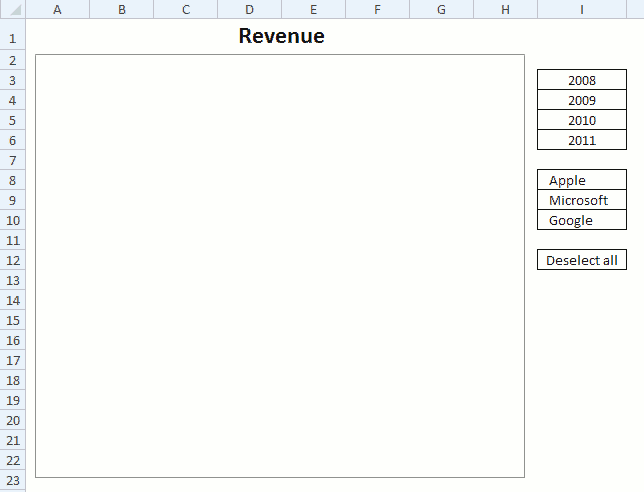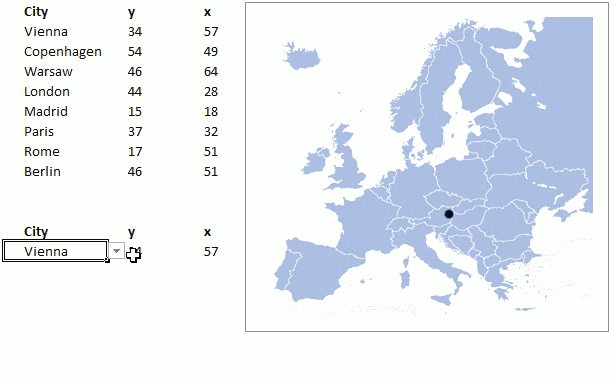 This post describes how to add a map (background picture) to a chart. The following animated picture shows a scatter […]